University to share in £17.7 million funding for new healthcare technologies
The University of Glasgow is one of four universities to benefit from research programme grants, totalling £17.7 million, that will develop new technologies to address the health issues of an aging UK population, Universities and Science Minister Jo Johnson has announced.
The research programmes, which are funded by the Engineering and Physical Sciences Research Council (EPSRC), will be led by the University of Glasgow, the University of Manchester, Imperial College London and the University of Leeds.
The University of Glasgow programme receives around £4.5 million.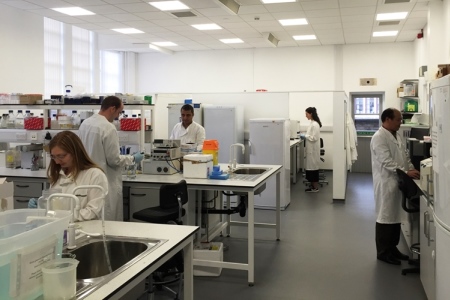 The research programmes will look to:
• develop more effective methods for the use of growth factor molecules in regenerative medicine that have a reduced potential for unwanted side effects - University of Glasgow;
• extend the use of 2D materials such as graphene in developing therapies and technologies for wound care and management (relevant to diabetes); neural rehabilitation by electrical stimulation (relevant to dementia); cell therapeutics (relevant to ophthalmological and cardiovascular disease); and immunotherapeutics (relevant to cancer) - University of Manchester;

• improve the range of applications for magnetic resonance imaging (MRI) in diagnosis of cardiovascular disease (CVD) - Imperial College London;
• develop novel testing methods for new knee therapies that combine laboratory-based simulation and computer modelling to predict mechanical performance and optimise design and usage - University of Leeds.
Mr Johnson said: "The UK is a world leader in medical breakthroughs and home to innovative healthcare companies that know how to turn our expertise into good business. This investment will help diagnose cardiovascular diseases, treat debilitating illnesses and ultimately improve the lives of millions of patients and their families."
Professor Philip Nelson, Chief Executive of the EPSRC, said: "More of us are living longer than before. It is vital for us to continue to invest in science and engineering research so we can ensure we have active, healthy and high quality later years. The EPSRC is striving to make the UK a healthy nation and one where research, discovery and innovation flourishes. These programmes will help deliver both of these objectives."
Professor Jon Cooper, Vice-Principal for Knowledge Exchange at the University of Glasgow, said: "The University is delighted to see this new and exciting programme grant in the use of stem cells in regenerative medicine. This is a collaboration of scale, using new engineering technologies to tackle challenges and deliver outcomes across a range of medical problems. It is great credit to Professor Manuel Salmeron-Sanchez to have brought together this outstanding, internationally-renowned team from across the engineering, biological and clinical sciences based in Glasgow but with significant contributions from Nottingham and Imperial."
The team at Glasgow is led by Professor Salmeron-Sanchez and includes co-investigators Professor Jon Cooper, Professor Matt Dalby, Professor Godfrey Smith and Dr Jo Mountford; Dr Felicity Rose from the University of Nottingham and Professor Molly Stevens of Imperial College London are research collaborators.
Professor Salmeron-Sanchez explained: "Growth factors are molecules within our body that participate in many physiological process that are key during development as they control stem cell function. These molecules thus have the potential to drive the regeneration of tissues in a broad range of medical conditions, including in musculoskeletal (bone repair), haematological (bone marrow transplantation) and cardiovascular (infarction, heart attack) diseases. Growth factors are currently produced commercially and are used regularly in clinical applications, however these are very powerful molecules and therefore dose is critical as balance between effect and safety has to be considered. While their help in regeneration is undoubted, collateral side-effects can be catastrophic eg tumour formation.
"This programme is about the safe use of growth factors in clinical applications. This work will not only reduce risks for patients who currently receive growth factor treatments, but will open up therapies that can include co-transplantation with stem cells to a wider range of patients as doctors would not have to keep these therapies back for cases of most pressing need. This increased use would minimise costs as growth factors are very expensive and reduced dose would save money per treatment."
---
Media enquiries: media@glasgow.ac.uk /0141 330 3535
First published: 29 September 2016