Major collaboration including CRUK and UofG to trial new combination of immunotherapy drugs
Published: 27 September 2016
Cancer Research UK has today announced its first cross-company deal as part of its Experimental Cancer Medicine Centre (ECMC) Combinations Alliance.‌
Cancer Research UK has today announced its first cross-company deal as part of its Experimental Cancer Medicine Centre (ECMC) Combinations Alliance.‌
MSD, Verastem and Cancer Research UK will trial a new combination of immunotherapy drugs in mesothelioma, non small cell lung and pancreatic cancers. The trial will run through the ECMC network at centres in Edinburgh-Dundee, Southampton, Glasgow, Leicester and Belfast.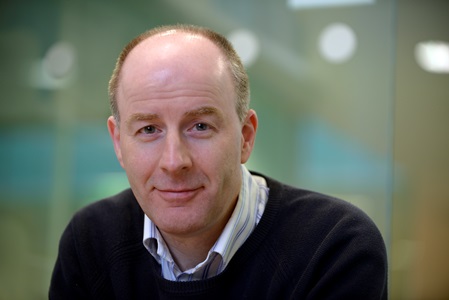 The phase Ib/IIa trial will investigate whether a focal adhesion kinase (FAK) inhibitor drug from Verastem called VS-6063 (defactinib) can boost the effectiveness of a PD-1 immunotherapy drug from MSD called Keytruda (pembrolizumab). The trial will open between late 2016 and early 2017. It will be managed by the Cancer Research UK clinical trials unit in Glasgow and co-sponsored by the University of Glasgow and NHS Greater Glasgow and Clyde.
The Priniciapl Investigator of the Glasgow-bsed trial is Professor Jeff Evans, Director of Institute of Cancer Sciences and Professor of Translational Cancer Research.
It is based on discoveries by scientists at the Edinburgh Cancer Research UK Centre at the University of Edinburgh who showed that inhibiting FAK can release the cancer immune response. Defactinib may be able to take down a barrier of immune cells which are tricked into protecting the cancer cells while pembrolizumab can activate cancer-killing immune cells to attack those exposed cancer cells.
Around 50-60 cancer patients will take the drug combination, starting with a small dose and building this up to find what is safe. The scientists will also study how the treatments target the cancers and what effects the drug combination has on the tumours.
Dr Mercia Page, medical director of oncology at MSD, said: "We look forward to working with Cancer Research UK and Verastem on this promising combination. Strategic collaborations such as this reinforce the commitment we have to bringing a range of new treatments to the forefront, helping people with cancer who need a number of options available to them."
Dr Greg Berk, Verastem chief medical officer, said: "Combining defactinib and MSD's pembrolizumab through the Combinations Alliance expands our potential to deliver transformative therapies to patients with many types of cancer.
"We are delighted to be working with the Combinations Alliance, MSD, and world class scientists and medical centres throughout the UK on this trial. This study will build on the single agent activity of defactinib observed in early clinical trials in patients with non-small cell lung cancer and other tumour types, and follows from substantial preclinical research which has demonstrated that FAK inhibition optimizes the tumour immune balance and potentiates efficacy of PD-1 checkpoint inhibition."
Dr Ian Walker, director of clinical research at Cancer Research UK, said: "It's vital that we find new treatments for these three cancers which take tens of thousands of lives each year in the UK and we're delighted to be working with MSD and Verastem on this.
"Our Combinations Alliance was set up to help develop partnerships between drug development companies and researchers to try new combinations of drugs in the hope of improving treatments and saving more lives from cancer. This is our first success in bringing together two organisations and we hope that this combination of immunotherapy drugs will benefit patients."
Mesothelioma, pancreatic and non small cell lung cancers have very low survival – with more than half (60 per cent) of mesothelioma patients, more than three quarters (79 per cent) of pancreatic cancer patients and two thirds (68 per cent) of lung cancer patients dying within a year of diagnosis in England and Wales.
Trial co-lead Dr Stefan Symeonides, from the University of Edinburgh, said: "Immunotherapy is a very exciting area of cancer research and we've seen remarkable benefits from pembrolizumab for some patients with hard-to-treat cancers, like melanoma and lung cancer. We're hoping that the addition of defactinib will extend those benefits to more patients.
"This work could one day give a new treatment option that saves lives for this group of patients who have few options."
---
ali.howard@glasgow.ac.uk or elizabeth.mcmeekin@glasgow.ac.uk // 0141 330 6557/4831
First published: 27 September 2016