MVLS professor awarded JR Vane Medal by the British Pharmacological Society
Professor Graeme Milligan, Dean of Research for the College of Medical, Veterinary and Life Sciences and the Gardiner Chair of Biochemistry at the Institute of Molecular, Cell and Systems Biology, has been awarded the JR Vane Medal by the British Pharmacological Society.‌‌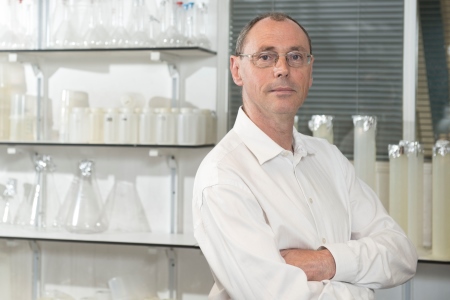 Professor Milligan receives the prestigious award for his outstanding work in the field of molecular, cellular and signalling pharmacology.
The JR Vane Medal was established by the British Pharmacological Society in 2001 and is awarded for an area designated by Council each year.
Professor Milligan said: "I am honoured to have been awarded the JR Vane Medal from the British Pharmacological Society. Previous awardees have been among the most influential pharmacologists of the era."
Professor Milligan's research centres on the function, structure and regulation of G protein-coupled receptors (GPCRs) and their interacting proteins. He was also recently named as a fellow of the Academy of Medical Sciences and is a fellow of the Royal Society of Edinburgh.
He also co-founded biomedical company Caldan Therapeutics in collaboration with Professor Trond Ulven at the University of Southern Denmark. The company is developing novel therapeutics targeting free fatty acid receptors for Type 2 Diabetes (T2D) and other potential indications.
The medal will be presented at the Annual Dinner and Prize Giving, which will be held on Wednesday, 14 December 2016. Professor Milligan will also present the JR Vane lecture to the society, on his work, in 2017.
The JR Vane medal is named after Sir John Robert Vane who was instrumental to the understanding of how aspirin produces both pain and anti-inflammatory effects.
The British Pharmacological Society promotes and advances pharmacology, including clinical pharmacology. With over 3,500 members from more than 60 countries, it is a global community at the heart of pharmacology.
---
Media enquiries: liz.buie@glasgow.ac.uk / 0141 330 2702
First published: 13 June 2016