Queen's Birthday Honours for University academics
A Damehood and an OBE award have been conferred on senior University of Glasgow academics.
Professor Anna Dominiczak, Regius Professor of Medicine, Vice-Principal and Head of the College of Medical, Veterinary and Life Sciences, is appointed a Dame Commander of the Order of the British Empire in recognition of her services to cardiovascular and medical science.‌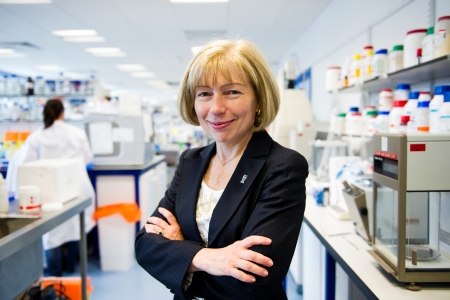 Professor John C Brown, Astronomer Royal for Scotland and former Regius and now Emeritus Professor of the University, becomes an Officer of the British Empire (OBE) for his promotion of astronomy and science education.
In addition to her academic positions, Professor Dominiczak is also an honorary consultant physician and non-executive director of the NHS Greater Glasgow and Clyde Health Board.
She said: "I am extremely proud to receive this honour and consider it also a recognition of the work of my many dedicated, talented and inspiring colleagues at the University of Glasgow. Their support has been invaluable. It is indeed an honour for me to lead the work of the College of Medical, Veterinary and Life Sciences which excels across so many areas and it is my hope that we can continue to positively transform the outcomes for so many people with cardiovascular and other chronic diseases."
A graduate of the Medical School in Gdansk, Poland, and one of the world's most eminent cardiovascular scientists and academics, Professor Dominiczak's research into hypertension, cardiovascular genomics and precision medicine identifies genetic factors which may predispose people to heart disease and stroke. She has authored almost 400 research publications and is currently Editor-in-chief of Hypertension, the leading journal for blood pressure research.
She was instrumental in creating the British Heart Foundation Cardiovascular Research Centre, of which she was Director from 2000-10. In 2010 she became Vice-Principal and Head of the College of MVLS at the University of Glasgow and has been a driving force in positioning Scotland as a global leader in precision medicine. She has led the world-leading academic developments of the Queen Elizabeth University Hospital in Glasgow, which will develop advanced new treatments for chronic diseases.
Professor Brown, who is the 10th Astronomer Royal for Scotland, is an Honorary Senior Research Fellow in the School of Physics and Astronomy at the University of Glasgow.
Until 2010 he led the University's research group in theory and modelling of solar and stellar plasmas and was especially involved in diagnosing solar high energy particles using data from spacecraft. For his world leadership in this field and his other contributions to astrophysical research and public outreach he was awarded the Gold Medal of the Royal Astronomical Society.
In his role as Astronomer Royal for Scotland, he gives public talks and performances with the objective of generating wider awareness of astronomy as a fun subject as well as a fundamental part of our culture.
---
Media enquiries: liz.buie@glasgow.ac.uk / 0141 330 2702
First published: 11 June 2016