Good food for all – cultivating a new approach
Published: 28 November 2015
Voltaire would have approved – new research shows there are distinct benefits in cultivating one's garden, particularly if it is a community garden.
Voltaire would have approved – new research shows there are distinct benefits in cultivating one's garden, particularly if it is a community garden.
A team of researchers at the University of Glasgow, Professors Deirdre Shaw, Andrew Cumbers, Robert McMaster and Dr John Crossan, have uncovered strong evidence that participation in a community garden can boost health and well-being, promote social inclusion, enhance community relations, and improve learning.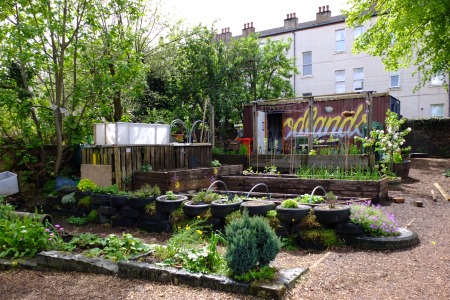 The research has involved the publication of a book by artist, Blair Cunningham, which is being launched on Monday, Nov 30, at the CCA in Glasgow. The book uses a selection of photographs to vividly depict the changes to post-industrial Glasgow's land-use, in the process mapping the city's community gardens.
The main research report, Glasgow's Community Gardens: Sustainable Communities of Care, has also contributed in the development of a new strategic body - The Glasgow Food Policy Partnership (GFPP), consisting of key public, private and voluntary sector organisations with the stated aim of achieving a fairer, healthier, more sustainable and resilient food system in Glasgow.
The aim of providing "good food for all" will be encapsulated in a Glasgow Food Charter, to be launched on Wednesday, December 2, at the Lighthouse in Glasgow. Over the coming months, the GFPP will be working to involve people from across the city to sign up to its Charter and state how they will take action to further these aims.
Professor Shaw, Professor of Marketing and Consumer Research, has no doubt that community gardens can be a "life-saver" for some people.
One volunteer told the researchers: "I decided instead of sitting in the house all day, the garden would get me out and about. It gives me something to do … it [the garden] helps bring down my stress levels with having something on my mind. I was in a bad way, drugs and stuff – working the gardens has saved my life."
Other volunteers said their involvement in a community garden had taught them team-working, collective decision-making, and democratic participation. The city's community gardens are also giving asylum-seekers and other members of minority ethnic communities an opportunity to share their cultural experiences.
Professor Shaw added: "Community gardens, while certainly connected to issues of food production, play a more extensive role in community life. That being said, community gardens in Glasgow should be seen as part of a wider emerging network of Urban Agriculture (UA) initiatives in the city, which include, amongst other emerging projects, Community Supported Agriculture (CSA), Community Seed Sharing and Market Gardens.
"Community gardens, in and of themselves, cannot produce yields significant enough to feed the city population. However, they do provide important employment and training opportunities in Glasgow and have considerable potential to be expanded, given the right policy support."
Nevertheless, the researchers found that community garden groups face a number of challenges, such as a lack of security of tenure for community garden groups, both in terms of private landlords and local authority contracts.
Find out more
---
First published: 28 November 2015