Professor Robert McMaster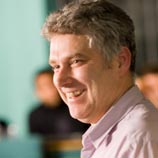 R501 Level 5, Gilbert Scott Building, Glasgow G12 8QQ,
Professor of Political Economy (Management)
Lecturer and senior lecturer in Economics at the University of Aberdeen for fourteen years until commencing current post at the University of Glasgow in January 2007. Visiting scholar at University of Missouri at Kansas City and Marquette University, Milwaukee.
Areas of expertise:
Institutional Economics
Social Economics
Governance of Public Services
Provision of Health Care
Methodology of Social Sciences
Adam Smith Research Foundation, University of Glasgow, 2012, £2K
Scottish Institute for Research in Economics, 2012, £3K
Carnegie Trust for the Universities of Scotland, 2011, £2K
Center for Global and Economic Affairs, Marquette University, 2010, $1K
Royal Society of Edinburgh, 2010, £6K
Department of Communities and Local Government, 2010, £24K
John Robertson Bequest, University of Glasgow, 2010, £2K
Current PhD students
David Clear

Thesis title: Using the metaphor of a fitness landscape from systems biology as a Risk Management framework.
Co-supervisor: Prof. Denis Smith
Asif Khan

Thesis title: Building entrepreneurial innovative competitive advantage through development of human capital and integrated learning with NGO and government alliance partners towards sustainable development.
Co-supervisor: Prof. Robert MacIntosh
Co-supervisor: Prof. Iain Docherty
Postgraduate:
Courses taught: Advances in Management Theory and Practice (MRes); Ethics and Business (UG hons); Development and Methodology of Economic Thought (MSc); Global Economy (MBA); Health Economics (MSc); History of Economic Thought (UG hons); Managing in the Public Sector (UG hons); Marketing (UG Level 1); Research Methods (MBA)
Research projects
Reform in health care provision; theoretical approaches in health and economics; conceptions of institutional durability and vulnerability; methodological problems in neuro-economics; the instrumental valuation principle and governance.
Recent professional involvement
Co-editor – Review of Social Economy