We can eliminate rabies, say researchers
Published: 29 September 2014
Scientists say rabies can be eliminated if governments, communities and health organisations work together.
Scientists say rabies can be eliminated if governments, communities and health organisations work together.
Rabies, if left untreated, is a 100% fatal neurological disease spread to humans through the bite of an infected animal, most commonly dogs.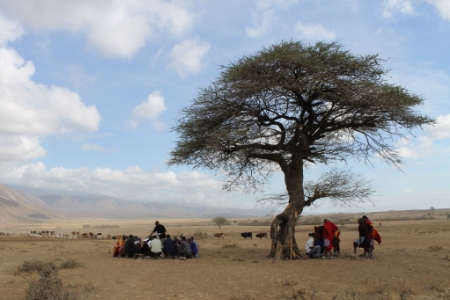 Whilst rabies has been eliminated in most developed countries in the world, poorer countries and their citizens are still at risk and account for the vast majority of the 69,000 annual global deaths.
In 2013, the World Health Organisation (WHO), The Food and Agriculture Organisation of the United Nations (FAO) and the World Organisation for Animal Health (OIE) pledged to eliminate human rabies from the globe and control it in animals.
While no timescale has been set for global elimination, countries in South America are aiming to eliminate human deaths from rabies transmitted from dogs by 2015 and the target proposed for south-east Asia is 2020.
"Vaccinating dogs is the single-most effective way of eliminating rabies," says Dr Katie Hampson, a Wellcome Trust Research Fellow in the Institute of Biodiversity, Animal Health and Comparative Medicine at the University of Glasgow.
"If you can vaccinate more than 70% of dogs through sustained campaigns, it is enough to interrupt transmission in the reservoir population so that the disease is eliminated. That is how rabies has been purged from most industrialised countries and why South America is so close to eradicating dog-transmitted rabies from the whole American continent."
The case for rabies elimination through vaccination of dogs is put forward in an article in the journal Science, co-written by Dr Katie Hampson, Dr Tiziana Lembo, and Prof Sarah Cleaveland at the University of Glasgow with colleagues at Washington State University, Nelson Mandela African Institution of Science and Technology, and the Global Alliance for Rabies Control.
Researchers at the University of Glasgow, such as Prof Cleaveland, have made major contributions to rabies elimination over many years.
Pioneering research carried out by Prof Cleaveland led to the WHO and the University securing a grant of close to $10 million from the Gates Foundation to eliminate rabies in low-income countries.
This was the first Gates Foundation grant to be awarded for rabies control and elimination, and marked a paradigm shift by focusing on animal interventions to protect human health. The money is being spent rolling out a canine vaccination programme – targeting domestic dogs – in three areas, Tanzania, Kwa Zulu Natal in South Africa and the Visayas archipelago of the Philippines.
The mass canine vaccination campaigns started in the large cities of Dar es Salaam and Morogoro with the programme then rolling out to rural communities. The campaigns in Tanzania are now in their second year, and the Glasgow team remain involved with the programme providing technical support.
Prof Cleaveland's team also received a grant of £635,000 from the Medical Research Council to provide additional support for epidemiological analysis of the data generated from the Gates/WHO project. This research is led by Professor Dan Haydon.
Using state-of-the-art mathematical modelling approaches, real-time feedback is provided to the field teams to allow for iterative improvements in the design of canine vaccination strategies, as campaigns are rolled out across large geographic scales.
Professor Haydon's research incorporates advances in genetic sequencing technology and analysis to generate high-resolution information about the different variants of the rabies virus circulating in the project area.
Dr Hampson says: "Over 50 people are bitten every minute from a rabid dog and many of those in poor countries cannot afford the $100 cost of post-bite treatment. "Yet this disease of the nervous system can be eliminated, cost-effectively, if there is a will and efforts are properly coordinated. This hasn't happened to the same scale in developing countries but it can be done, as we have shown through our own research in places like Tanzania.
"Louis Pasteur and Emile Roux invented a rabies vaccine in 1885 and dreamed of ridding the world of this horrible disease. Nearly 130 years later we have the opportunity to do just that. We should take it."
---
Media enquiries: stuart.forsyth@glasgow.ac.uk / 0141 330 4831
First published: 29 September 2014