Leading immunologist elected Royal Society Fellow
Professor Foo Yew 'Eddy' Liew, Senior Research Fellow and Gardiner Professor of Immunology at the University of Glasgow has been elected a Fellow of the Royal Society (FRS).
Professor Liew now joins the likes of Stephen Hawking, Richard Dawkins and Sir Paul Nurse – as well University professors Jim Hough and Richard Cogdell – as a Fellow of the prestigious Royal Society, the world's oldest scientific body in continuous existence since 1660.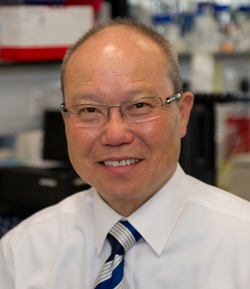 The Royal Society awards lifetime fellowships to the most eminent leaders in the world of science, engineering and technology in the UK and the Commonwealth and becoming a FRS is one of the very highest honours available to academics and has been awarded to 80 Nobel Laureates.
Professor Liew, who was the founding Director of the University of Glasgow Biomedical Research Centre (GBRC) was elected as a FRS due to his pioneering work in the field of immunology and inflammatory diseases in a career spanning four decades.
During his career, Professor Liew has made important breakthroughs, including the discovery of T cell heterogeneity, which led to a greater understanding and treatments of the disease Leishmaniasis, and pinpointing the role that Nitric Oxide plays in regulating the body's immune system. By common acclaim, Professor Liew's research has had a major impact on our understanding how the body's immune response protects us against diseases, opening the door to the development of novel and more effective therapies.
Since arriving in Glasgow in 1991, Professor Liew has transformed the Scottish immunological scene and, under his leadership, Glasgow has grown into one of the leading international centres of Immunology. As a member of the German Research Council, Chairman of the Research Grant Panel, Hong Kong, and a visiting Professor in China, Brazil and the Saudi Arabia, meant that he has been central in attracting international research collaborations to Glasgow.
Professor Liew is a current member of the Infection and Immunity Board of the Medical Research Council UK, and was the past President of the European Federation of Immunology Societies from 2006-2009. He is Editor-in-Chief of the prestigious European Journal of Immunology and President of the European Congress of Immunology to be held at the SECC in Glasgow in September this year, attracting over 5,000 participants. His current research is supported by program grants from the Wellcome Trust and the Medical Research Council.
Professor Liew said: "It's an honour to be recognised by the Royal Society. My time at the University of Glasgow has been very fruitful and I hope that I have made some real contributions to the biomedical sciences here."
Professor Anna Dominiczak, Head of the College of Medical, Veterinary & Life Sciences (MVLS), said: "Being elected as a Fellow of the Royal Society is the pinnacle of the academic career for any scientist; Professor Liew is one of the foremost figures in his field and this accolade is a testament to the depth and breadth of his work in biomedical sciences and richly deserved."
Professor Anton Muscatelli, Principal of the University of Glasgow, said: "I would like to congratulate Professor Liew on this prestigious award. Over his time at Glasgow he has played a significant role in shaping Immunology research, not only in the University, but throughout Scotland. It is because of his work in this field that Glasgow's Institute of Infection, Immunity and Inflammation can now count itself among the UK's leading research institutions."
---
For further information contact the University of Glasgow Media Relations Office on 0141 330 3535 or media@glasgow.ac.uk
Notes for editors
• Each year 44 Fellows are elected from over 700 candidates; successful candidates are elected through a peer review process that culminates in a vote by existing Fellows.
• There are approximately 1,450 Fellows and Foreign Members, including more than 80 Nobel Laureates. Once elected, Fellows may use the postnominal FRS after their name, Foreign Members may use the postnominal ForMemRS after their name.
• Fellows are invited to fulfil a range of responsibilities for the Society on a voluntary basis; many are members of awards or grants committees, editorial boards, research panels or other bodies that oversee the work of the Royal Society.
• The Institute of Infection, Immunity and Inflammation comprises scientists and clinicians working together to promote and develop research, drug discovery and ultimately improvements in patient care in this area of critical international importance.
• The Institute brings together world-leading basic, applied, clinical and translational researchers to study infection, with a focus on the viral, parasitic and bacterial pathogens of both humans and animals; and immunology and inflammation, with a focus on chronic inflammatory diseases.
Glasgow University academic elected to Royal Society, BBC News Online: http://www.bbc.co.uk/news/uk-scotland-glasgow-west-17785376
First published: 20 April 2012