Driving Detroit: The Quest for R-E-S-P-E-C-T in Motown
Published: 13 December 2010
World-renowned authority on urban regeneration, Professor George Galster is to deliver a free public lecture on the lessons we can learn from the Detroit experience.

World-renowned authority on urban regeneration, Professor George Galster – Carnegie Centenary Visiting professor to Glasgow University - is to deliver a free public lecture on why the once thriving American city of Detroit still struggles to escape the worst effects of urban deprivation.
In Driving Detroit: The Quest for R-E-S-P-E-C-T in Motown, Professor Galster from Wayne State University describes Greater Detroit's predicament in terms of capital, labour, race relations and its over-reliance on a single heavy industry: car making.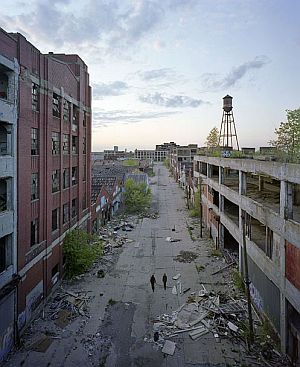 He traces the historical struggles between employers and unions, blacks and whites and places the region's changing population patterns - which have led to a catastrophic abandonment of the city core – in political and economic context.
Professor George Galster said: "Like Glasgow, Detroit was a blue collar, militantly unionized, industrial behemoth at the close of World War II. Both cities in the 65 years since 1945 have lost significant shares of population and their primary industries at the time - shipbuilding in the case of Glasgow and automobiles in the case of Detroit - have become vestiges of their former selves. Yet, today, Glasgow has been reinvented and revitalised, while Detroit is the world's poster-child for decay and dysfunction. Why? - my lecture aims to answer this."
University Principal, Professor Anton Muscatelli will open the event – being held in the Senate Room, Main Building, University of Glasgow at 6pm on 16 December - with an introduction and welcome. While Professor Ken Gibb, Head of Urban Studies, will speak in response to the lecture with his thoughts on the lessons the Detroit experience can teach Glasgow and the UK.
Professor George Galster concludes: "Seeing what Glasgow had accomplished over the last decades can give hope even to my depressed and depressing hometown of Detroit. But what has happened in Detroit should serve as an indelible counterexample for any politician who uncritically touts the benefits of the unfettered free market."
Driving Detroit: The Quest for R-E-S-P-E-C-T in Motown is a free public lecture but anyone wishing to attend should register in advance with Matilda Wright in Urban Studies on 0141 330 5048 or Matilda.Wright@glasgow.ac.uk
Further information:
Martin Shannon, Senior Media Relations Officer
University of Glasgow Tel: 0141 330 8593
---
First published: 13 December 2010