How to support the changing needs of staff and students
Lee Carlton,

User Researcher, World-Changing Glasgow Transformation (WCGT)
Simone Cilia, Events Manager,

Learning Enhancement & Academic Development Services
Celine Rey

nau

d

, International Experiences Manager, Learning Enhancement & Academic Development Services
To meet the changing needs of students and staff at the University, creating personas will help teams to identify user behaviours, to understand who their users are, and enable better decision-making which is focussed on user needs and goals. It's a service design approach that is becoming more widely used and it does not need to be a complicated process.
So, what is a persona?
Personas are a service tool which create reliable and realistic representations of key users. They are compiled through research and are commonly used when designing a service. This approach ensures that the needs and perspectives of students and staff are met and fully understood. They can be used in any part of the design process. At the beginning, they may help in establishing who the potential users are, what might their needs be, and where improvements could be made to enhance their experience. They also maintain focus on the needs of users throughout the design process, enabling better decision-making by testing and evaluating solutions against them.
Why are they used at the University?
The work of the Global Opportunities team (Study Abroad and Exchange) at UofG continues to adapt to the dramatically changing mobility landscape. BREXIT has denied students access to the ERASMUS scheme, impacting their ability to study and work with university partners in Europe. Most recently the COVID-19 pandemic has restricted student's ability to physically travel or attend university. Students needs are also changing, and a semester or year abroad may not be a viable option for all students.
It is likely that Global Opportunities team will approach and plan international experiences in a different way. Future international experiences may incorporate more online activity and virtual engagement, enabling students to build relationships with their international peers whilst at home.
To adapt to the changing mobility landscape, the Global Opportunities team are using personas to ensure virtual and physical mobility programmes are created to meet the needs of our students, as well as being flexible enough to adapt to the changing political and global environment. The team wanted to gain a more detailed understanding of student's needs, challenges, and motivations of studying or working abroad.
How are they created?
Team alignment
The Global Opportunity team has considerable interaction with mobility students throughout the student's journey. These interactions shape the way the team engages with the students. To get started, the team began empathy mapping the behaviours and attitudes of students who they have supported to study or work abroad, as well as their assumptions of students who did not participate in this type of experience. This activity helped the team to distil and categorise their knowledge of their service users in one place. This helped to discover gaps and provide a foundation for further research.
Student survey
To validate these assumptions and gather further insights, 457 students provided survey feedback, providing rich qualitative and quantitative data on their experience and expectations of studying or working abroad.
One of the areas we were able to better understand was students' interest and expectation of virtual mobility; a virtual international experience which brings students and teaching staff together across cultures to learn, discuss and collaborate as part of their class, without leaving their home university.
With the increased chances of COVID-19 restrictions lifting for the summer and physical mobility being more feasible, 89% of students would still consider participating in a virtual exchange programme.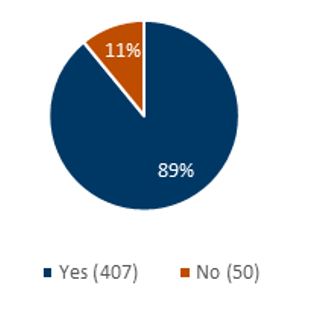 Feedback from the student survey
Student workshops
With the output from both the empathy mapping and student survey, we were able to create 5 personas to test with students. A series of virtual student workshops and interviews were held, and students were able to contribute their ideas through Mural, an online collaboration tool. These sessions explored student's mobility journey and allowed participants to co-design and problem solve some of the challenges which were uncovered through the survey student feedback.
How will the personas be used?
This work has allowed the project team to commence designing virtual exchange programmes with student needs at the forefront of the planning process. The persona workshops detailed students' experiences in the virtual learning environment.
Students detailed their challenges staying engaged with online learning, challenges working in intercultural groups in different time zones, and the challenges working online when the software they need to use is not supported by the hardware they have. Some of the most interesting insights came from students discussing their need for a structured learning environment online. It is very important for students to clearly see a learning path and for new information to build on the information they have learnt in previous classes.
What value do they bring?
When creating personas, teams can learn directly from the people who use their services, and how it impacts them. The persona template is a tool to communicate the validated user research insights and the existing knowledge and experience of team members – it's about the process, not just the end-visual. Personas are not a one-size-fits-all tool and to be useful, the data captured in a persona should reflect the goal for that persona and the scope of work it is meant to impact. This allows teams to design better services, review their methods of communication and delivery support that meets user needs.
The personas created by the Global Opportunities team will help build international virtual exchanges designed to create a sustainable, technology-enabled, people-to-people education programme.