Don't Be Afraid To Reach Out For Support!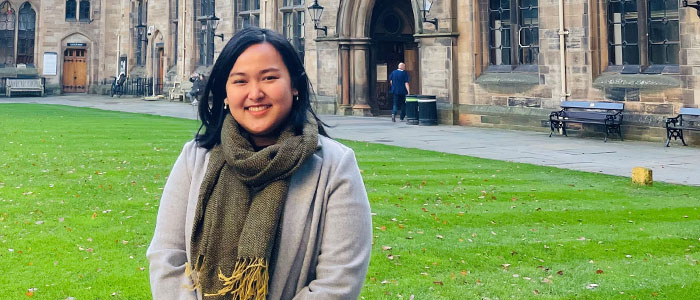 If you are a first time university student or an international student first time being abroad, it can be quite daunting to be in a strange place being alone away from home.
For some, the first two to three months always have challenges of homesickness with living in a different city with the food that you are not used to, having language barriers, adjusting to the weather different from your home and first-hand experiencing a different learning method starting from academic writing to analyzing critically.
Eventually, several factors start to demotivate you, and you start to withdraw yourself from the class activities. However, at University of Glasgow, there are people who are ready and love to help you overcome those challenges. Personally, I got back on my track with student life and with my studies when I stopped isolating myself and started reaching out to people for support. Here, I have noted down the resources I have received support from.
Your Lecturers
Whenever I have trouble with some of the lecture materials and do not understand them fully, I first started reaching out for help from my programme leader and lecturers for advices for studies and more clarifications for the things I did not understand.
They are always welcoming with your questions no matter how trivial it might be. They make time outside of the class times, and were really supportive with the students to learn and improve, and are not judgmental at all. They genuinely want you to succeed with your studies, so they are your number one go-to support pillars.
Your Class Representatives
If you feel like you are not clear on the course information or have concerns you want to express, each class will have at least one class representative as well. Class representatives will be not only your friends but also will be able to help you with clarifications on class times, study tips, and advices on where to get support from.
They sometimes can be the listening post for your frustration with classes, but be sure you give constructive feedback so that they can act as the bridge between the students and the administration team, and could actually bring you some feedback from the administration team.
LEADS Programme
One of the difficult challenges as an international student was with academic writing, reading, analysing the studies critically and time management. Another great program on campus which is very resourceful and supportive was Learning Enhancement & Academic Development Service, which is also known as LEADS programme, where you can take extra classes and get advice on how to write, read, analyse critically, exam preparations etc. Although I am still in the process of learning and practicing, I felt that I have definitely improved in utilizing those skills compared to when I first started my classes.
The above are the resources whom I reach out to for my studies during my student life here at UofG. Depending on your program, there might be other people or course specific programs which you might be able to get support from. So, on final thought to sum all up, do not be afraid to ask questions or get support! There are people who are there to support you and help you.
---
Learning Enhancement & Academic Development Service
First published: 27 January 2022