Eva Simmons Discusses GBV on Campus and in Society
Content Warning: This article's content relates to sexual violence. If you would like to access support, without reading further, please follow this link.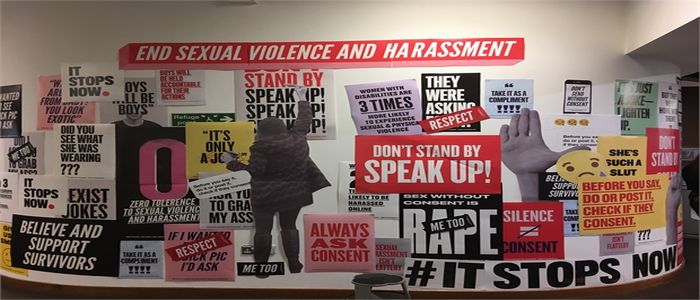 Eva Simmons Vice President (Student Support) for the Students' Representative Council (SRC) discusses gender-based violence on campus and in society.
I am sure I share the opinion of the majority of students in the University community that the recent reports of incidents of increased spiking and harassment in clubs are deeply disturbing.
Not only are these reported incidents serious criminal offences, but they are deeply damaging to people's sense of safety when on a night out.
Young women, including myself, are increasingly feeling anxious, scared, and paranoid, deeply affecting our ability to enjoy ourselves when out – which is often our only time to relax and have some time off.
Furthermore, young people dealing with this persistent and ever-changing sense of threat, are increasingly presented with the repeated advice of 'keep safe' and 'be vigilant,' - framed often as the only option.
Instill Real and Lasting Change
While the recent reports of an increase in spiking bring a very specific and heightened sense of threat, constant harassment and misogyny, especially in the night time economy, are not new. This reality is just as horrific and exhausting and must not be downplayed.
Both spiking and harassment must be understood as part of the wider structural issue of gender-based violence that exists in our society, and it is this we must tackle at its roots if we are to confront the issue in a way that can instill real and lasting change.
As Caitlin excellently puts in her recent article, violence against women is not inevitable, but it is unbearable.
Increase Students' Safety
From my position on the Students' Representative Council (SRC), we have met with the other student bodies (the Unions GUU and QMU, and the Sports Association GUSA) to put in place measures that seek to do more to increase students' safety when on campus.
The student bodies are exercising and advocating for a zero-tolerance approach to all forms of harassment, abuse, and violence, and increased security in the Unions. However, we must all play a part, where we can, to make our fellow students, friends, and classmates feel safer on and off campus.
Doing More to Start Conversations
If you see someone acting strangely, or believe they are harassing, assaulting or making someone feel uncomfortable, please step up. If you see a friend acting strangely, or believe they are harassing, assaulting, or making someone feel uncomfortable, please step up.
Even just asking the person that you believe to be under threat if they are okay, can be a step in making someone feel safer. But if in doubt, alert a member of staff, alert security using the Safezone app, or call 999 if necessary.
We also need to do more to start conversations about this issue, not just when on a night out. Pull your friends up if you don't think how they're behaving is appropriate, call people out when making misogynistic comments or jokes, and discuss what you can do to make people that feel threatened safer; on a night out, or in any public, or social space.
Tackling Gender-Based Violence
In the SRC, my colleagues and I are dedicated to campaigning to tackle gender-based violence in any capacity we can.
Currently the SRC run a workshop series called 'Let's Talk about Sexual Violence' which you can learn more about and sign up for. We have also been working, in collaboration with Rape Crisis Scotland, on an online Moodle course about Gender-Based Violence which will soon become compulsory to all students at the University of Glasgow.
This module, launching November 1st, will cover topics such as consent, healthy relationships, definitions and variations of Gender Based Violence, and bystander intervention.
A Multi-Faceted Approach
On a personal note, I can give you my word that this will always be a priority, for myself and for the SRC, and we are committed and dedicated to continuously working on this issue. W
e would, however, like to see more from the University's side. From developing proper and trusting channels for handling complaints and providing support for any student that needs it in the face of Gender-Based Violence, to increased training, to embedding gender equality and a zero tolerance to misogyny or sexism into all aspect of learning and teaching.
Only through a universal and multi-faceted approach can we begin to entertain the possibility of change, and a campus and society where people feel safer and happier.
---
The SRC Advice Centre have a page of Sexual Violence Support resources which you can access online. You can also use them as a third-party reporting tool for any form of harassment, assult, or violence.
Find our more about the Safezone App.
Rape Crisis Scotland provide a national helpline and email support to anyone affected by sexual assault. The helpline operates between 6pm and Midnight on 08088 01 03 02. Glasgow & Clyde Rape Crisis can be contacted on 08088 00 00 14, Mon-Fri 11am – 2pm
The university has published a statement on this issue which includes guidance for students.
First published: 28 October 2021