Lady Rita Rae appointed UofG Rector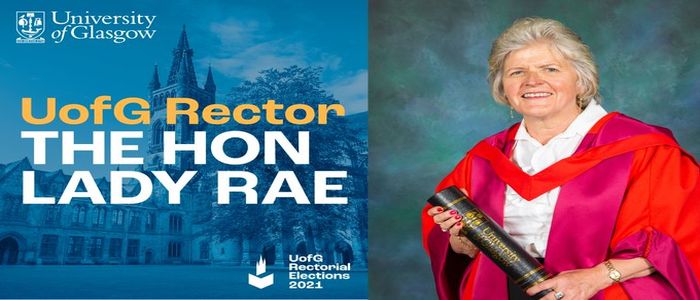 "We are delighted to welcome The Hon Lady Rae as our new Rector. It was a close-fought election but students were clearly impressed by Lady Rae's wealth of experience and willingness to both listen to students and advocate for the issues that they are facing. The SRC looks forward to working closely with her over the next 3 years to represent students across the University."
On 21 April, UofG students voted to appoint The Honourable Lady Rita Rae as Rector. Lady Rae will become the first standing female Rector in the University's history.
The Rector works closely with the Students' Representative Council (SRC) to champion student issues across the UofG, including holding surgeries for which any registered student can make an appointment to attend.
Lady Rae was successful over two other candidates, former journalist and current MP John Nicolson, and Councillor Junaid Ashraf.
Over the course of a distinguished legal career spanning five decades, Lady Rae has worked as a lawyer, judge and former Senator of the College of Justice. She was awarded an Honorary Doctorate of Law from the University in 2019 in recognition of her contribution to Scots law.
Following the election, Lady Rae recorded a Facebook Live session with SRC President Liam Brady, which is now available on our Facebook page
You can read more about the role of the Rector, and about Lady Rae's manifesto and priorities on the UofG Rector webpages.
---
First published: 6 May 2021