First Steps in the James McCune Smith Learning Hub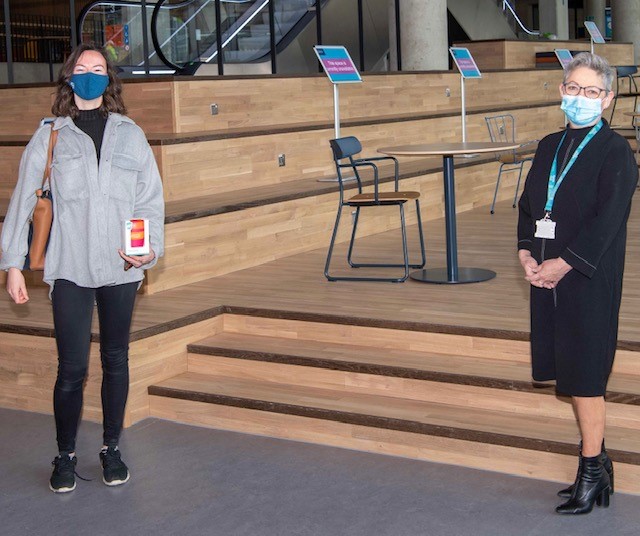 UofG Student Katy Gillespie share her impressions and thoughts on being the first student to visit the new James McCune Smith Learning Hub (JMSLH).
Having completed my undergraduate degree at Glasgow and graduating last June, online, in a rather anticlimactic fashion, I honestly never imagined I would be sitting here now, studying in the James McCune Smith Learning Hub (JMSLH), let alone be the first student to grace its magnificent spaces.
However, after deciding to enrol in what many of my fellow students have coined a 'pandemic masters' (which, in hindsight, I would highly recommend), and prolonging my University time, I was delighted to hear that I would be able to make use of the new building before my degree ends in the late summer of this year. I distinctively recall being informed of the building's plans in my second year, and after hearing about the sheer size, costs, and innovative architectural ideas, never conceptualised that it would open for students to utilise four years later.
I vividly remember seeing, for the first time, the digital mock-ups circulating all our student emails of the new build. At first, we all agreed that its chic modern style may have appeared out of place amidst Gilbert Scott's 150-year-old Gothic revival style. However, I think our past reservations have been proved firmly wrong.
The JMSLH reflects the University's innovative and world-class architectural abilities; its stylistic design sits neatly and comfortably alongside its neighbourly builds as if it has been a part of the University's architectural community for years. I was genuinely astounded at the sheer size and the state-of-the-art facilities it offers. Normally studying with friends and being early morning workers, hearing about some free merchandise available to the first few in the door, we decided to arrive at the JMSLH at 8am, eager to explore all that it had to offer. It felt quite eery yet special taking our first few steps on the ground floor, knowing that in a couple of hours it would be full of the continuous hum of students; mingling and navigating its spaces, settling in the most comfortable areas of the building. We found our study area and seats within ten minutes of our search, deciding to set camp on the 6th floor, which we thought had the best seats in the house, offering beautiful but not distracting views over the University's campus and the wider city.
Despite my preference for the 6th level – each floor offers something different. From the ground floor providing several cosy small desks to work away at, nestled around an appetising array of new food venues to the relaxing higher levels with their large desk spaces and breath-taking views over Glasgow – I am confident that each floor can provide a suitable and safe space for students to work in. The fact that the University has provided this critical space is a fantastic achievement and necessary to support students throughout their academic careers. I feel very thankful to be able to utilise this space over the coming summer months, which will be full of summer research and dissertation writing – and am envious of younger students who can make use of the JMSLH for years to come.
I am certain that the famous James McCune Smith – the first African American to receive a medical degree, graduating top of his class from Glasgow University – would be content knowing that this monumental construction stands in his legacy. And like my experience, would have found his first steps into his building one that completely lived up to all expectations, making him happy that it stands proudly in his honour; providing students with the optimal study environment to push their boundaries, and achieve academic feats like his accomplishments.
---
Find out more about the James McCune Smith Learning Hub - including opening hours and how to access the building.
First published: 6 May 2021