Miss Studying With Friends in the Library?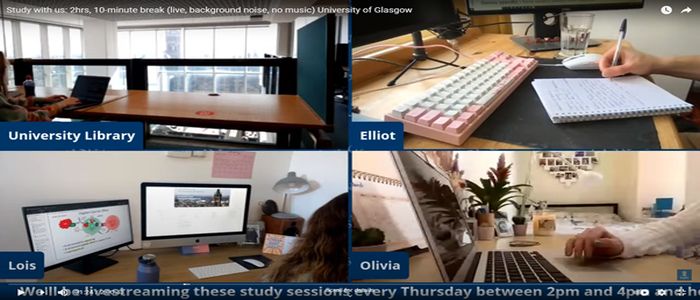 Miss studying with friends in the Library? Or would you like some company while you study for exams?
Join UofG Students Lois, Elliott, Olivia and Rhian on Thursdays between 2pm and 4pm for our Study With Us #TeamUofG livestreaming study sessions on the UofG YouTube channel.
They will be working for 50 minutes, from 2pm until 2:50pm. Then have a 10-minute break, and start studying again at 3pm until 4pm, when the livestream will end.
You can find previous study sessions on the 'Study with Us | Live Study Streams' playlist on the UofG channel. Feel free to play these videos whenever you want to help motivate you through the upcoming exams
Or watch live every Thurs between 2-4pm. Set a reminder now!
---
Find out more about 'Study With Us #TeamUofG'
Watch previous Study With Us Live Streams now on Youtube
Watch more of our #TeamUofG Vlogger Playlists
First published: 22 April 2021