Fundraising with UofG Mary's Meals Student Society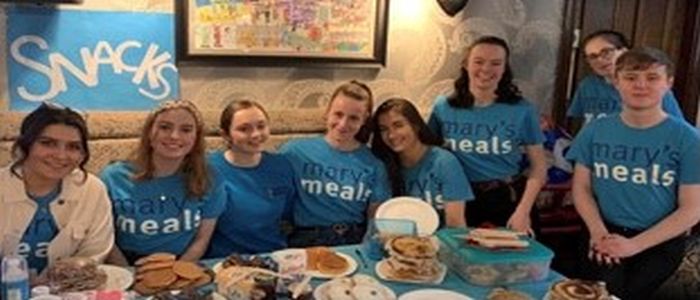 Hi, we are UofG's Mary's Meals Society, a charity society that aims to raise awareness and funds for Mary's Meals.
If you have not heard of Mary's Meals, it is a Scottish based charity dedicated to providing a daily school meal to some of the poorest children in the world.
Mary's Meals are working towards a global movement where those who have all they need will share what they have with those who lack the most basic things. The UofG Mary's Meals society works within the university to try and spread this mindset. As of the 20 January, Mary's Meals are currently feeding 1,667,067 children all around the world, and with the cost of feeding a child for an entire year being only £15.90, this number is always continuing to rise.
As a society, we run many fun events throughout the year to fundraise for the charity. Even this year we have held an Online Raffle, our yearly 'Porridge week', As a society we eat only porridge, beans and rice for a week as these are the staple foods that Mary's Meals provide. And more recently Challenge Week.
In Challenge Week we competed with Mary's Meals societies from Edinburgh, St Andrews, Strathclyde, and Aberdeen's universities to see which could walk, run, cycle, or just travel the furthest in a week. This event has been a huge hit so far, with our society travelling over 100km in one day!
Although I can't report on the final results as I am writing this during Challenge week, head to our social media pages to find out the results and who came out on top Despite all the challenges we have faced so far this academic year, our amazing little society has managed to push through and raise £3,729.45 in Semester 1. This is enough to feed 234 children for an entire year. It is an amazing feeling for me, personally, to be able to look back on what we have achieved so far and to think about all the children that our hard work will help. This has helped me to get through what has been a very difficult year.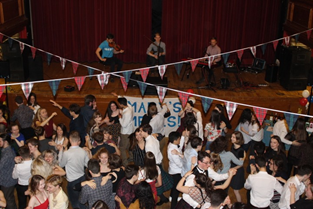 Next year, we hope to be able to run some of our in person events again (I bet you've heard that one before). One of our biggest and best events of the year is our award winning Burns Night Ceilidh, which we are so sad to not be hosting this year. Whether you know how to Ceilidh or not, It is a brilliant night of dancing and swinging each other around ending with everyone piling into HIVE to finish the night. We also often ran bake sales outside the library and the QMU, and pub quizzes around the west end, and can't wait to get back out to do that again.
If you are interested in joining our society we are always open and excited to get new members, and even though our meetings are currently on zoom we would love to see you there! Please message our facebook or Instagram page with any questions, or drop us an email.
---
Facebook - UofG Mary's Meals
Instagram - @gumarysmeals
Email - GUMarysmeals@gmail.com
First published: 28 January 2021