Do Something Good with GU Volunteering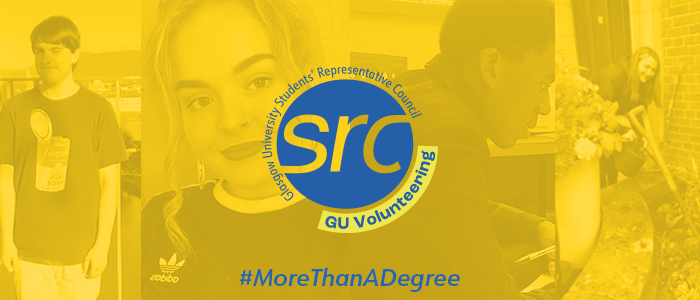 GU Volunteering is part of the Student Representative Council (SRC) and is the University's dedicated volunteering service, providing personal development opportunities for our students through a range of activities focussed on community engagement and social benefit both on campus and through the Glasgow area.
In February the SRC are hosting a Volunteering and Social Justice Festival – a virtual event taking place over three days (3 - 5 February) that will give you the chance to talk to some of GU Volunteering's charity partners, learn about the work they do and the range of opportunities on offer. 
The SRC spoke to Patrick, Bronwyn and Rebecca – three student volunteers from across the University who told us about their experience as GU Volunteers. 
Why did you choose to volunteer?

 
Patrick: As I am new to Glasgow and to the university, I hoped that volunteering would be a good way to meet people and make friends. Meeting new people has been very difficult due to the  lockdowns, so I was very happy to have an opportunity to do so. I am also very interested in language‐learning, from the perspective of both a teacher and a learner and wanted to gain more experience in it. In addition to this experience, I hoped that my tutoring would be a useful addition to my CV.
(Patrick is 19, from Ireland and studies History & Philosophy. Patrick volunteers  at the SRC's Conversational English Café). 
What have you enjoyed most during your time as a volunteer?

 
Bronwyn: I enjoy when the students finally understand a specific topic, such as algebra, and go on to do well in class test in school. It is rewarding when the students tell us they look forward to the sessions as they recognise the benefit to them. Even though this opportunity is all online, the atmosphere is very relaxing, and you can have a laugh with the students - whilst doing the work! 
(Bronwyn is 21, from Scotland and studies Physiology. Bronwyn volunteers as a Remote Tutor for the Volunteer Tutor Organisation. Get involved with this opportunity). 
 

How much of an impact do you feel your volunteering has made?

 
Rebecca: It has been especially worthwhile to hear that those whom I speak with every week appreciate and look forward to our chats. Some individuals do not have family that are close by to speak with every day, so when you phone you may be the first person they have spoken to in a few days. I think that taking this time out to provide a friendly conversation does make a big difference, especially through such an unfamiliar time.
(Rebecca is 20, from Scotland and studies Biochemistry. Rebecca volunteers as a Food Train: Telephone Befriender. Get involved with this opportunity). 
What would you tell a student who is thinking about volunteering?

 
Patrick: I would strongly encourage them to take it up. Volunteering is a great way to give something back to the community and make new friends, and anyone interested would benefit from it. Especially in the current circumstances, when it is very difficult to meet new people, volunteering is a great opportunity for social interaction and engagement. 
 

If you could sum up your volunteering experience in one word, what would it be?

 
Patrick: Enlightening.
Bronwyn: Enriching. 
Rebecca: Rewarding. 
---
 To sign up to become a Volunteer, head to their website and start searching the database for opportunities to get involved in: 
The GU Volunteering and Social Justice Festival is from 3-5 February. Find out more and sign up for events via their Native website
First published: 28 January 2021