Launch of UofG energy strategy
The University of Glasgow has launched a new energy strategy to reduce energy consumption and carbon emissions across an estate of 320 buildings ranging in age from the 19th to the 21st century.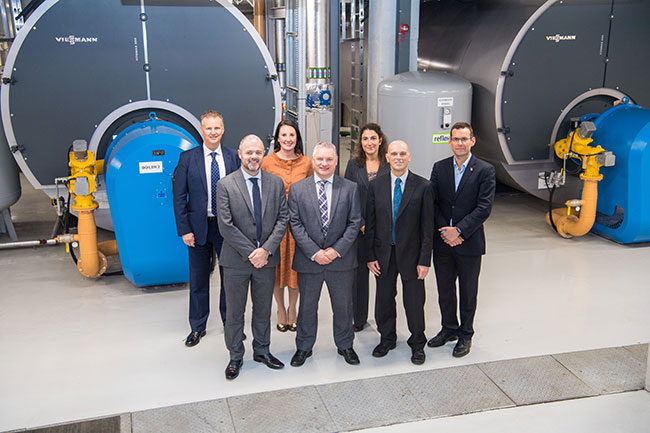 David Duncan, Chief Operating Officer and Sustainability Champion, said: "As a University we aim to deliver at least 6,000 tonnes of our target CO2 savings across the term of this five-year strategy. We will raise awareness across the University community, optimise use of energy and, where possible, increase the volume of renewable energy generation.
"The energy strategy forms a key part of the University's sustainability strategy and carbon management plan, which also cover waste and recycling, sustainable travel, climate change adaptation, and biodiversity.
"This is an important step for the University and reflects one of the aims of the University Strategy 2015-2020 – to create an efficient, well-designed and well-built estate, which operates in a sustainable manner."

The University's Estates and Commercial Services team will also develop strategic relationships with the academic community and bodies including SP Energy Networks and the Innovation Gateway – an alliance of organisations working in partnership to reduce the costs and environmental impacts of their buildings - to ensure the University's new campus buildings benefit from excellence in design.‌‌‌‌‌‌‌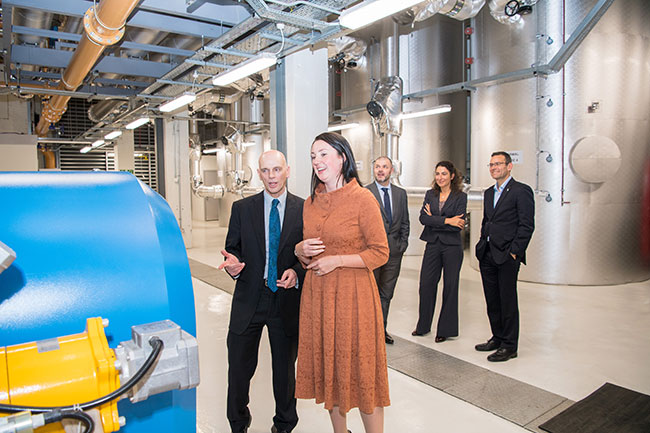 ‌‌‌‌‌
Barry Morton, Head of Technical Services, said: "We shall work collaboratively to ensure we understand our building utility consumption, reduce wastage and are able to integrate renewable technologies to reduce our reliance on the grid.
"By joining the Innovation Gateway we can start to share energy data and other relevant information with key organisations across a variety of sectors. Partner organisations include Tesco, Heathrow Airport, RBS, Places for People and many others. By understanding the best practice in place elsewhere we can prepare business cases with confidence in tried and tested energy solutions".
Henry Majed, Partnerships Director at Innovation Gateway, added: "It is our great pleasure to welcome the University of Glasgow as one of the first Associate Members of the Innovation Gateway, and to be included as a part of their ambitious Energy Strategy. Many of the challenges that the University is exploring have already been addressed by the Innovation Gateway partners, so I am pleased the University will benefit from this experience, and cross-industry best practice, to deliver game-changing innovation across their own estate."
Another of the University's energy partners will be SP Energy Networks. David Guthrie, District General Manager for SPEN in Glasgow, said: "SP Energy Networks is installing a new High Voltage connection to the western campus for the University of Glasgow. It involves substantial cable-laying and a brand new sub-station within the facility. At the end of the project this will provide energy for the entire western campus, including carrying out works in ancillary buildings to give an overall better energy solution for the campus.
"The work we're carrying out with the University harmonises perfectly with our strategy for the west end of Glasgow, in particular where we currently have a 6,600 volt network which we are upgrading to 11,000 volts. Once completed, this will provide additional capacity for future commercial and housing growth, together with supporting the expected increase in the use of electric vehicles."
Gillian Brown, the University's Energy Manager, said: "The University of Glasgow's carbon footprint for 2015/16 was 69,591 tonnes CO2e and for 2016/17 was 64,109 tonnes CO2e. We aim to reduce the University's footprint by 20% with respect to the 2015/16 figure, with a target of 55,500 tonnes CO2e per annum by 2020/21.
"This is an ambition but achievable target - this energy Strategy must deliver ~6,000 tonnes CO2e emissions savings, while also ensuring that we continue to provide a reliable and resilient energy supply to our estate."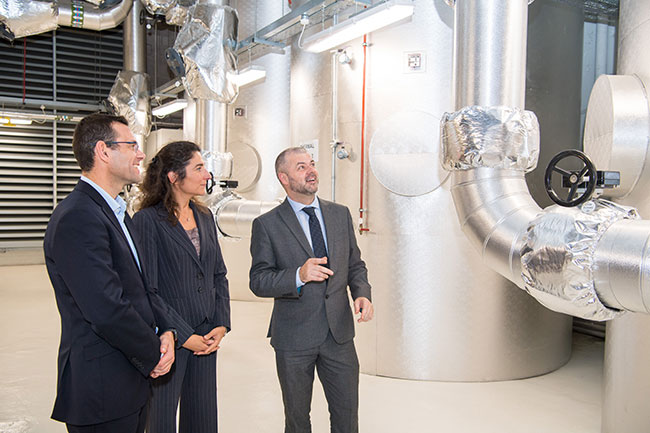 Buildings and infrastructure in the new development will have the following energy efficient attributes:
• A BREEAM rating of Excellent and EPC Energy Performance Certificate certification of A – BREEAM is a leading environmental assessment method for master planning project, infrastructure and buildings;
• Heating and hot water from the expanded district heating network
• Photovoltaic (solar-powered) panels installed on roofs
• Rainwater harvesting
• Smart street lighting
• Automated building management and lighting controls
The launch has coincided with the recent appointment of Professor Gioia Falcone, Rankine Chair and Professor of Energy Engineering. She feels that there is plenty of scope for the academics involved in energy engineering research to make a positive contribution to the Smart Campus project. Relevant research areas to the Energy Strategy range from conventional to unconventional energy solutions, including the use of renewable resources.
"We can certainly have an impact, for example by optimising the distribution of energy within buildings. We are also considering how geothermal energy can be combined in the energy mix, along with solar energy, innovative combustion processes and chemistry-based technologies for the storage of electricity and heat," she said.
Professor Chris Pearce, Dean of Research for the College of Science and Engineering and lead for the Smart Campus project for the University, added: "The energy strategy is just another component in creating a campus for the future and a smart campus - one that's going to be fit for purpose, not just for now but for the future. It will be an exemplar of what we can do, not only in terms of providing a campus fit for the future for our students and our staff, but also in terms of the research we can do to demonstrate new ideas and new technology."
---
First published: 30 October 2018