Whistler and Nature at Compton Verney
Issued: Mon, 26 Nov 2018 16:00:00 GMT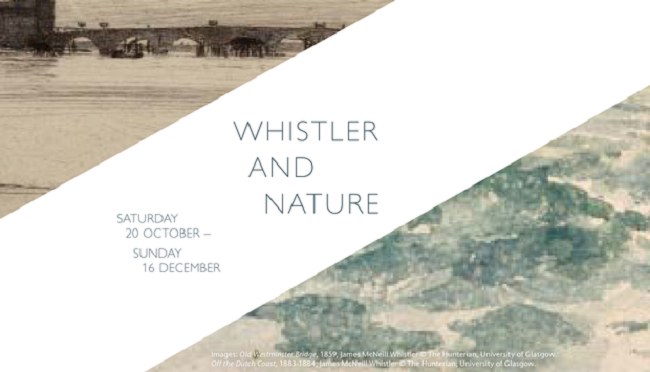 ‌Works from The Hunterian's internationally renowned Whistler collection are currently on display as part of a new exhibition at Compton Verney Art Gallery & Park in Warwickshire.
Whistler and Nature, developed in partnership by The Hunterian and Compton Verney, casts new light on the work of American artist James McNeill Whistler (1834-1903) and is the result of innovative research by Dr Patricia de Montfort, Curator of Whistler Studies at The Hunterian and Lecturer in History of Art at the University of Glasgow.
The exhibition, which runs until 16 December, has attracted very positive national press coverage including reviews by Richard Cork in the Financial Times and Claudia Pritchard in The Independent.
Whistler and Nature explores the artist's revolutionary attitude towards the natural world and features around 90 etchings, lithographs, oil paintings and works on paper. Over 70 are on loan from The Hunterian including Battersea Reach from Lindsey Houses (c. 1854), The Bathing Posts, Brittany (c.1893), Thames Warehouses (1859), Billingsgate (1859), and Nocturne (c.1875-1877).
Beginning at Compton Verney, Whistler and Nature will then tour to the Fitzwilliam Museum in Cambridge and Newcastle upon Tyne's Laing Art Gallery, before returning to The Hunterian in the spring of 2020.
The exhibition is accompanied by a publication of the same title by Dr Patricia de Montfort and Professor Clare Willsdon, Professor of the History of Western Art (History of Art) at the University of Glasgow.
---