Dumfries celebrates the legacy of Peter Pan Author JM Barrie
Issued: Fri, 23 Nov 2018 10:00:00 GMT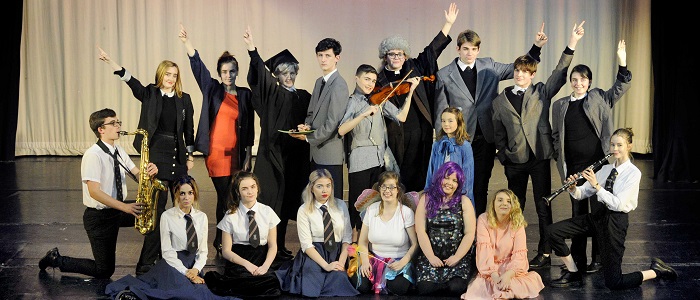 Actress Joanna Lumley is to be special guest at a festival's evening of theatre, dance & music celebrating Year of Young People 2018
Lumley, is the patron of Moat Brae, the school drama club founded by JM Barrie. Moat Brae will help celebrate Barrie's legacy this weekend with an evening of drama and music in front of an audience including Lumley.
Staged, which takes place at Dumfries Academy on 24 November, where the teenage JM Barrie studied from 1873-78 is a highlight of the Dreams for the Future Festival in Dumfries.
The festival is part of Scotland's Year of Young People 2018 and is a pre-opening event for Moat Brae house and gardens which will open to the public next spring as the new National Centre for Children's Literature and Storytelling.
Among the young actors taking part in Staged will be Ross Whalen who will take the role of JM Barrie in a short production called Barrie's Legacy.
This is written and performed by members of the drama club that Barrie and his friends set up and which remains a dynamic part of school life today.
Ross said: "JM Barrie is such a well-loved figure and it's such an honour to be able to bring him to life onstage in celebration of his work and 140 years of drama at Dumfries Academy. Researching and writing this play with my friends has been a rewarding experience."
Another short play called The Reunion takes place in a modern setting and imagines what would happen if Peter Pan contacted his old comrades for one last adventure. It is being performed by a group of 16-26 year olds with additional needs who are part of the Dumfries Arts Awards Programme and is being run in association with The School of Interdisciplinary Studies at the University of Glasgow.
Project Officer Heather Molloy, who wrote the script and has led the project, said: "They are a really talented bunch of young people and it has been a privilege to work alongside them. The group helped develop the script, made the props and will be performing in the show.
"For some of them it's the first time they have stepped on stage – in part because there are very few opportunities for them to realise and achieve their full potential."
Staged will also see the world premiere of a piece of music entitled Peter Pan Moat Brae, by 24-year-old composer Patrick Dupuy which will be performed by Dumfries and Galloway Schools Ensemble with a dance piece by Dumfries School of Dance.
Staged will also see The Theatre Royal Junior Guild of Players perform the first full production of Bandelero the Bandit since 1877.
This was Barrie's earliest play, which he wrote as a 17-year-old student at the academy. It generated national controversy after being condemned in the press by local minister the Rev D L Scott as "grossly immoral" and appealing to "the irreligious, the frivolous, the giddy". However, Barrie won widespread support including from the actor Sir Henry Irving and the Duke of Buccleuch.
The play is a melodramatic tale of misunderstandings in which an attempt is made to free the unfortunate Bandelero who has been captured and accused of a murder he didn't commit.
It is being directed by Emily Kelly, who said: "It has been a privilege for the Junior Guild to work on Bandelero the Bandit. Most are aware of the Theatre Royal's connection with JM Barrie and they are eager to perform the play.
"I really feel that this is a great opportunity for the Junior Guild to showcase their talent to a wider audience, and I have thoroughly enjoyed working with them."
Fiona Somerville, who leads the ensemble and is a music teacher at St Joseph's College, said: "Working with such a talented and hardworking group of young musicians has been a privilege. Pupils from four different secondary schools are coming together to rehearse weekly. There have been challenges along the way but the young people have shown enthusiasm and commitment; I look forward to their performance on Saturday night."
Moat Brae is next door to the academy and is where the young JM Barrie and his friends played the games that inspired Peter Pan and his ideas for Neverland.
It has been rescued from dereliction and restored to its Georgian splendour. Work is now underway to fit it out with exhibitions, interactive displays and many other features.
The project to save the building where Peter Pan began and turn it into the National Centre for Children's Literature and Storytelling has been run by the Peter Pan Moat Brae Trust (PPMBT) whose Patron is Joanna Lumley.
Simon Davidson, Moat Brae's Centre Director, said: "Staged is a really exciting event because it is bringing together so many young people, with so many skills and talents in a real celebration of their creativity. We are particularly pleased that Joanna will be joining us for the evening.
"We want Moat Brae to be a really inspirational place that gives young people the opportunity to get involved with all sorts of exciting events and activities.
"The whole Dreams for the Future Festival has been co-curated by young people and gives a foretaste of what we hope to achieve in the years ahead."
Author and playwright J M Barrie lived in Dumfries from the age of 13 to 17, and played in the garden at Moat Brae. His first work of fiction was a "log book" recording the games of pirates and adventure that he played there under the name of "Sixteen String Jack". He attended the nearby Dumfries Academy and enjoyed his first experiences in staged productions at Dumfries Theatre Royal.
Barrie returned to the town and on being awarded the Freedom of Dumfries, he described his childhood there as "the happiest days" of his life.
---
Dreams for the Future
Dreams for the Future takes place from 24 November to 2 December and is supported by the Year of Young People 2018 event fund, managed by EventScotland.
To book for any of the Dreams for the Future events online go to http://www.dgboxoffice.co.uk or you can pop into the Midesteeple Box Office in Dumfries.
Peter Pan Moat Brae Trust
The Peter Pan Moat Brae Trust was set up in 2009 to save Moat Brae House and garden from demolition and to celebrate its international literary connection as 'The Birthplace of Peter Pan'. For further information see the Peter Pan Moat Brae Trust website at https://www.peterpanmoatbrae.org or follow on Facebook or Twitter
About EventScotland
EventScotland is working to make Scotland the perfect stage for events. By developing an exciting portfolio of sporting and cultural events EventScotland is helping to raise Scotland's international profile and boost the economy by attracting more visitors. For further information visit www.EventScotland.org or on Twitter @EventScotNews
About Year of Young People 2018
A global first, YoYP 2018 is a part of the Scottish Government's themed-year programme which focuses on celebrating Scotland's greatest assets. • A year-long programme of events and festivals are taking place across the whole of the country for all ages to enjoy. More information at www.visitscotland.com/yoyp2018.
Dreams for the Future is supported by the Year of Young People 2018 Event Fund. Local authorities, schools, youth groups and organisations are running their own YoYP 2018 activity. Search #YOYP2018 on Twitter for the latest news. More information can be found at yoyp2018.scot, searching #YOYP2018 on Twitter @YOYP2018 or by emailing yoyp2018@gov.scot