Major Prize for book on Adrian Howells
Issued: Thu, 21 Jun 2018 09:00:00 BST
‌A volume of work celebrating the remarkable achievements and legacy of the late University of Glasgow's Honorary Fellow Adrian Howells, has won a major prize.
The book - It's all Allowed: the Performances of Adrian Howells, which takes its name from one of Adrian's favourite sayings - was edited by the College of Arts' Professor Dee Heddon and Dominic Johnson from Queen Mary's University London.
It has been awarded the Theatre and Performance Research Association (TaPRA) Prize for Editing (Edited Collection or Special Issue) 2017.
Adrian was a pioneering live artist, a theatrical performer and leader in the field of one-to-one performance. He was also an AHRC Fellow at the University of Glasgow for three years, during which time he performed some of his most creative work.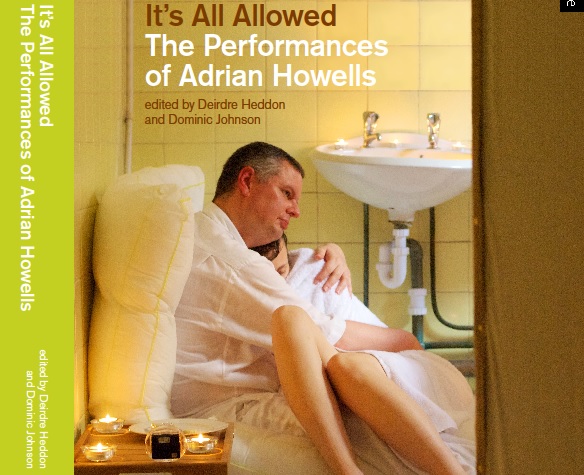 The TaPRA judges made the award to the book's editors as they felt "the collection was an intimate response to Howells's work, but one that is also a profound meditation on the potential effects of performance itself".
In the award citation, the judges described it as "carefully curated with a significant eye to detail" and this "labour of love is a critical volume that will be useful to readers; it is also a beautiful object in its own right".
Professor Heddon, who holds the James Arnott Chair in Drama at the School of Culture & Creative Arts and was a close friend and mentor of Adrian, said: "It's All Allowed: The Performances of Adrian Howells was conceived as a collection of essays, reflections, and archive of his significant performance legacy.
"Co-funded by Creative Scotland and the University's Chancellor's Fund, the aim of the book was to make tangible the uniqueness and power of Adrian's performances – to somehow make the work feel intimate and live even though printed on a page – ensuring his work continues to inspire others.
"This was a hard book to curate and edit; it was written through grief and with love. Receiving this award means so much as it confirms that we have managed to translate the joy, pleasure and challenges of Adrian's work in such a way that it can continue to be shared with others. Adrian's most famous saying was 'It's all allowed'. We pass that on too"
From 2006-09 Adrian held a prestigious AHRC Creative Fellowship in Theatre Studies at the University of Glasgow and from 2010 was appointed as an Honorary Research Fellow
Adrian spoke honestly about his lifelong experience with depression and talked about it in his performance work too. In March 2014, suffering from a period of chronic depression, he committed suicide, aged 51.
---