Catering for success
Issued: Tue, 03 Jul 2018 17:36:00 BST
A member of the University Hospitality services has taken advantage of a life-changing Glasgow partnership which is helping young adults with autism and learning disabilities gain full-time, paid work.
Darren McCluskey graduated from Project Search last year and, despite living with autism, has gone on to find work as a catering assistant.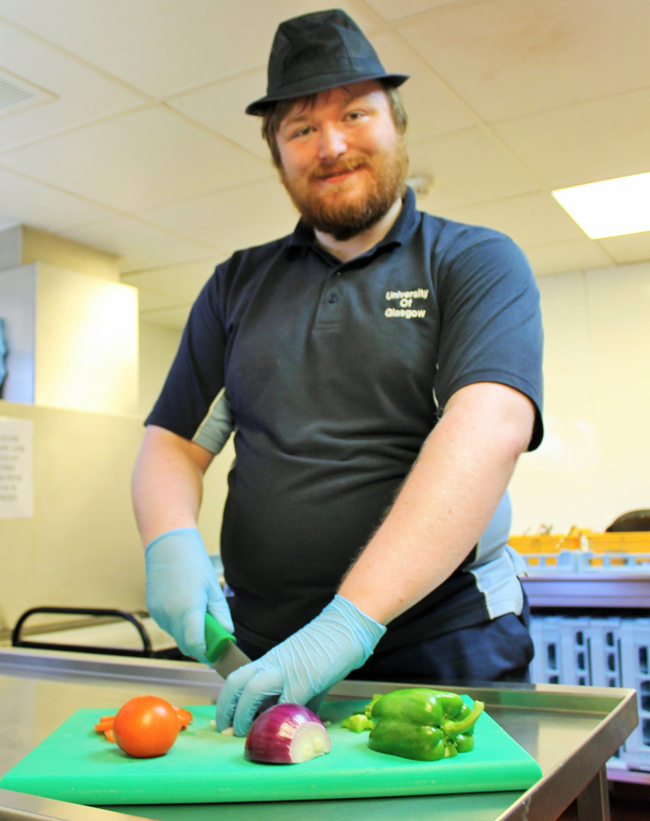 Project Search aims to boost the job prospects of people aged 18 to 25 who may struggle to find work due to their disabilities. It offers intensive work experience as well as classroom tutorials focusing on skills such as job-hunting, CV-writing, interview techniques and working with others.
Darren's job has given him more personal freedom and he's thrilled to be able to use his wages to pay for his own car.
The 22-year-old, from Glasgow's West End, said: "Project Search is a fantastic programme to do. It has helped me improve socially. I'm a lot more outgoing with other people now. It helped me get my job and it's the best thing I've ever done.
"I loved my job from the day I walked in. I love speaking to the students and hearing what they want to do with their lives. It has raised my confidence and that is crucial in life. I enjoy being in the kitchen. It is very fast paced and keeps you moving.
"I've got a new car which I pay for myself. It means I don't have to rely on other people so much. I'm also looking forward to leaving home and getting a place of my own in the future."
---