Christmas party, open to all colleagues
Published: 4 November 2022
Ferguson Bequest funds an all colleague Christmas party evening in the GUU
Dear Colleagues,
The staff Christmas party is back for 2022! We look forward to seeing colleagues for some festive fun.
Join in with the celebrations on Friday 9 December in the Glasgow University Union. All proceeds for this event will go to Make-A-Wish, and so far we have raised over £33,000.
This year also marks the 10th anniversary of the charity event, Cash for Kids received £4,020.00 in 2012 and Make-A-Wish received £33,024.00 over the last eight years.
There is a poster included inthis article that can be downloaded and displayed staff areas, or forwarded to other colleagues as you see fit to raise awareness.
This event is funded by the Ferguson Bequest. Professor Thomas Ferguson (1900-1977), Henry Mechan Chair of Public Health (1944-64), bequeathed his estate to the University, with the instruction that the money should be used to foster the social side of University life.
Best wishes,
Derek Johnston
Clerk of Works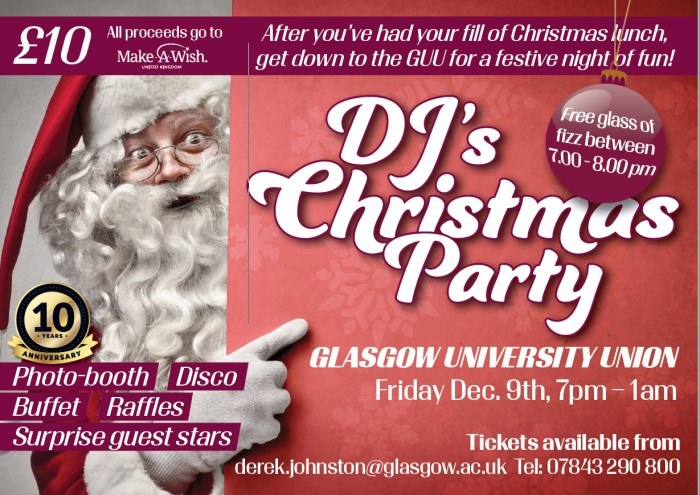 ---
First published: 4 November 2022