Bute Gardens Refurbishment
The restoration will commence on the 5th of September and will include a road closure from the 28th of September. The work will modernise the estate by reducing its susceptibility to both heat loss and dampness.
The project will also include a number of structural repairs to the chimney stacks on each gable end. As a result of the structural repairs required to the gable end facing the Adam Smith Building, a road closure will be in place to ensure the safety of the community, colleagues and students.
Duration of road closure
The road closure will commence on 28 September and will last for 5 weeks. The project team alongside the contractor will endeavour to reduce this duration wherever feasible.
Location of road closure
Please see the below markup which provides further detail on the proposed road closure.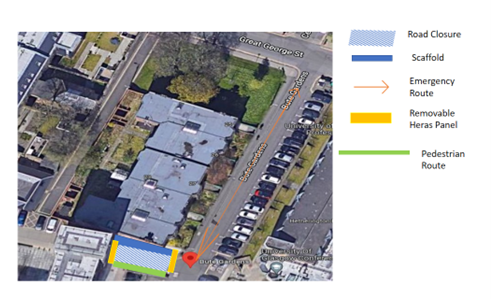 Impact on access
Pedestrian access will be maintained to allow pedestrians to access Lilybank House. Accessible routes will be available through the Adam Smith Building.
Emergency access will be maintained. A gate system will be installed at each side of the road closure to ensure emergency services can access Lilybank House throughout the duration of the road closure.
Vehicles will be unable to access the rear of the Adam Smith Building for the duration of the closure.
We apologise for the disruption that this critical refurbishment project may cause.
---
Bute Gardens History
The terrace is comprised of five sandstone houses likely built by John Nesbit in 1907. Nesbit was in the same class as Charles Rennie Mackintosh in the Glasgow School of Art, and he was a prolific designer of tenement buildings in the Glasgow School style. The terrace displays elements of the Arts and Crafts style and was C listed in 2011 by Historic Scotland. They currently provide administrative offices and teaching space for the School of Social and Political Sciences in the College of Social Sciences.
Some of Bute Garden's unique and decorative elements include the unusual flat roof, patterned leaded glazing, and a stain-glass door in No.29. The interiors retain many original and beautiful details. For example, No.27 has renaissance-style plasterwork, in addition to a plaster frieze with square roses and thistles. Interestingly, the gable wall of No.29 features patterned leaded glass. We know from records that the architect had intended to build more terraces on the street, but this detail in the gable end suggests that he had intended to leave a gap to showcase the beautiful patterned leaded glass detail.
First published: 20 September 2022