The Umbrella Project – James McCune Smith Learning Hub
The leading neurodiversity, mental health and education charity, the ADHD Foundation Neurodiversity Charity, has brought the iconic Umbrella Project art installation to the James McCune Smith Learning Hub.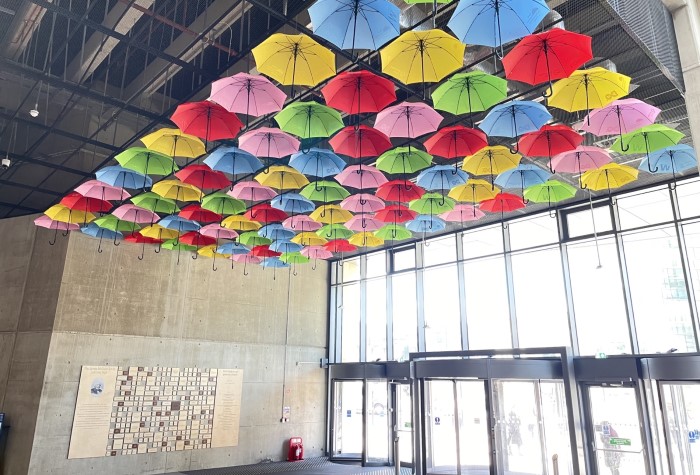 The Umbrella Project installed overhead in the entrance to the JMS
The installation features highly colourful umbrellas positioned overhead the building entrance and is designed to celebrate the one in five people who are neurodivergent. The installation at the University is one of many displayed throughout the UK during 2022 that aim to challenge us to 'think differently' about neurodivergence and to celebrate those with learning differences.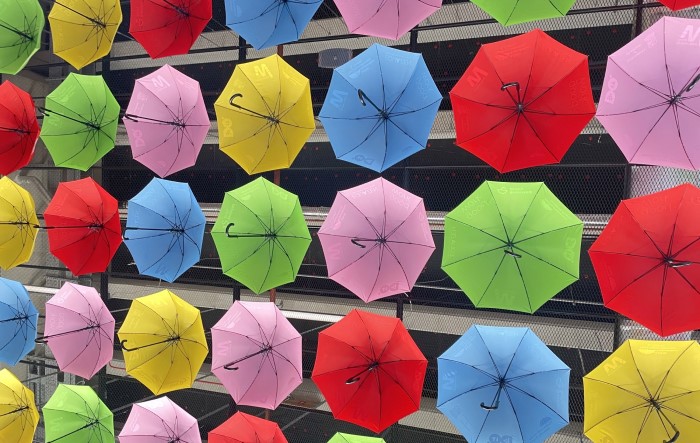 The colourful umbrellas suspended above
ADHD Foundation Neurodiversity Charity CEO Dr Tony Lloyd said: "It is wonderful to see the University of Glasgow at the forefront of enabling students and staff to understand and benefit from a greater understanding of neurodiversity in academia and our economy.
"Over 30% of entrepreneurs and business owners have either dyslexia, ADHD, austism, dyscalculia or dyspraxia. Graduates with ADHD are twice as likely to start their own business. Neurodiversity is a new paradigm that enables and empowers the 1 in 5 Scottish citizens who are neurodiverse. Such differences in neurocognitive capabilities are evidence of the evolutionary purpose as to why so many of us think differently and why we should celebrate these naturally occurring variations in human intelligence."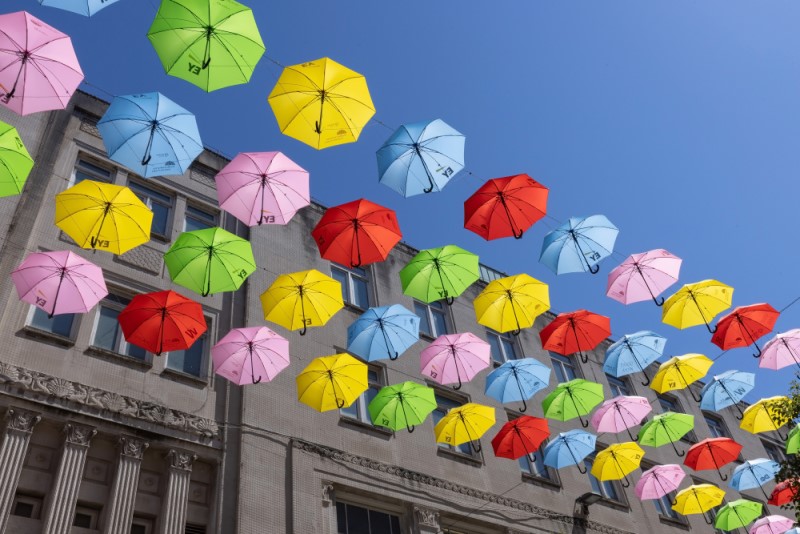 The Umbrella Project has been featured across the UK - pictured above in Liverpool
Karen Lee, Director of Strategy, Performance and Transformation - Estates Directorate said: "We are delighted to be part of the national Neurodiversity Umbrella Project 2022, celebrating the unique contributions of all our students and staff. Hosting the installation in the James McCune Smith Learning Hub is particularly appropriate, given the vision and design of the building as an inclusive, accessible space, providing a range of different settings in which our students (and staff) learn, work and engage in ways which best suit them."
The ADHD Foundation Neurodiversity Charity is the leading campaigner in raising awareness of neurodivergence, advocating for better understanding and recognition of the dynamic contribution they make to our economy, schools, communities and arts, culture and sport.
Neurodiversity is the umbrella term for neurological conditions including dyslexia, dyspraxia, dyscalculia, Tourette Syndrome, ADHD and Autism.
You can find out more about the ADHD Foundation Neurodiversity Charity, and the Umbrella Project, here.
---
Find out more about the work of the ADHD Foundation Neurodiversity Charity here:
https://www.adhdfoundation.org.uk/what-we-do/umbrella-project/
First published: 16 September 2022