UofG Ukraine humanitarian response
The on-campus donation hub for colleagues and students wishing to contribute non-monetary donations to Ukraine has seen incredible contributions from across the University community since it opened.
Originally due to close last week, the hub has been extended by a further week to accommodate donations.
Location:Queen Margaret Union, University of Glasgow, 22 University Gardens. G12 8QN
Times: 08:00-12:00 am daily, Monday 7 March – Friday 18 March
Students and colleagues can also donate in a number of ways via the Scottish Refugee Council and donations can be given through organisations such as the Disasters Emergency Committee Ukraine Humanitarian Appeal.
The hub has been organised by Lesia Davidson and Professor Peter Skabara. Prof Skabara said: "The response in Scotland and the rest of the UK in rising to help Ukrainian refugees at this horrific time is remarkable. At the University of Glasgow, students, staff and friends are coming together to do their bit including collecting much needed donations. We're proud to stand with our European brothers and sisters."
Rachel Sandison, Deputy Vice Chancellor External Engagement and the University's Refugee & Asylum Seeker Champion, said: "At this difficult time, it's heartening to see our University community playing a part in helping those who are facing uncertainty and hardship as a result of the war in Ukraine. I'd like to thank everyone who has donated to this campaign so far, and all the willing volunteers who have been involved in running the hub."
All donations collected will be transported through approved routes via Edinburgh AUGB (Association of Ukrainians in Great Britain). They have an established route through Europe and onto Poland and Ukraine.
You can find more resources and updates on the University's response to Ukraine on our webpages.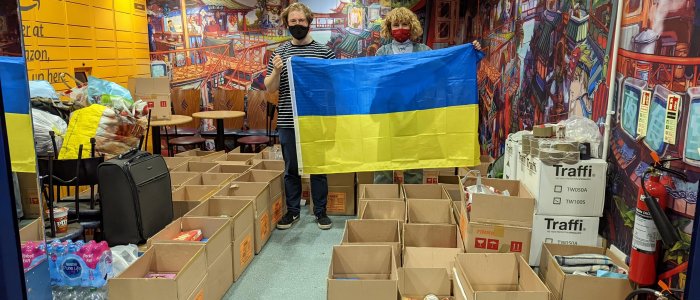 ---
First published: 11 March 2022