Honorary Professorship for leading auditor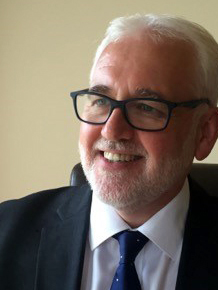 We are delighted to announce that James Baird, a Senior Client Partner of Deloitte in Switzerland, has accepted an Honorary Professorship at the Adam Smith Business School, writes Emma Ferrier.
With a wealth of leadership experience within professional services, and extensive expertise in delivering audit and advisory work to global companies, James will be working with the School to develop our external engagement and impact, to build our linkages and collaboration on an international level and to continue to enhance the value, relevance and impact of both our academic research and the experience we offer students.
Alumnus returns
James graduated from the University of Glasgow in 1987 with a First Class MA Hons degree in French Language & Literature, and went on to become one of Scotland's leading auditors and Deloitte's Senior Partner in Scotland.
James' career began as Audit Senior Manager with PricewaterhouseCoopers (PwC) in 1987 before he joined Rutherford Mason Dowds as Audit Partner in 1998. He joined Deloitte LLP in 1999 where he became Partner in charge of Audit and Enterprise Risk Services for Scotland and Northern Ireland with a diverse portfolio of UK listed and privately owned clients.
In 2008, James became Deloitte's Practice Senior Partner for Scotland and Northern Ireland, and was responsible for the leadership of 37 partners, across 4 offices, with 650 employees, accountable for business strategy, market growth and external eminence. From 2009 James, as Global Leader of Audit Analytics, was responsible for the development of a strategic vision for audit analytics and for leadership of the execution of audit analytics for audit capture and audit delivery across the international Deloitte network.
From 2010 until 2015 James was Deloitte's Managing Partner of Audit and Risk Advisory in Switzerland, leading a business of 38 partners and 450 employees across 6 offices. His responsibilities included the development and execution of growth and transformation strategies; the expansion of the firm's advisory capabilities; the strengthening of the Partner and Director group through hiring and internal promotion and coaching; development of major audit capture strategies and go-to-market infrastructure; enhancement of audit quality; risk management and talent competencies.
During this time, he was also a member representing Deloitte of the Auditor Panel of the Global Public Policy Committee, comprising the six largest global firms and reporting to the firms' global CEOs, and focusing on audit quality and the value of audit to market stakeholders.
Currently, James is a Senior Client Partner for Deloitte and leads on the audits of Swiss listed groups and other major corporates whilst pursuing his research interests.
Wealth of knowledge
James brings a wealth of knowledge to his role as Honorary Professor and upon his appointment said: "I'm really excited to be working with the Adam Smith Business School. There is a fantastic wealth of ideas, brain-power and energy across the staff and students, with a powerful mix of backgrounds, specialist expertise and international cultures. As Scotland looks to redefine and reinforce its entrepreneurial strength for the challenges of the global and digital economy, and the pressures of regulation, governance and financial transparency become even greater, we've all got to challenge ourselves to make a difference, to work smarter and to bring new ideas forward into practical effect. The Business School has a fantastic opportunity to play a meaningful role with companies, business leaders, regulators and the talent of tomorrow. I can't wait to play my part in that with the Adam Smith Business School."
---
First published: 22 September 2016