Hunterian's Mackintosh collection helps restore GSA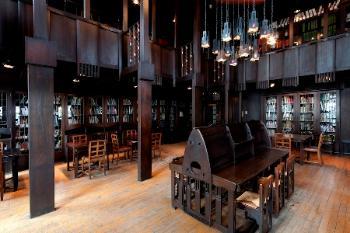 The Glasgow School of Art restoration team were the first users of The Hunterian's new Collections Study Centre, which opened yesterday.
The team visited Kelvin Hall to study Charles Rennie Mackintosh's plans for the GSA library, which was destroyed in a fire in 2014. The original drawings, which will provide crucial detail for the complex restoration project, were among the first of over a million items from The Hunterian Collection to move to the new state of the art collections study facility.
Director of The Hunterian, Professor David Gaimster, said: 'Given the strength of our Mackintosh collection, we are delighted that colleagues from The Glasgow School of Art will be the first to use our unique new facilities at Kelvin Hall.
'The Hunterian Collections Study Centre will not only forge new academic practice and opportunity around our collections but will also mobilise object-based research, teaching and learning for the wider educational audience.'
GSA's Senior Project Manager Liz Davidson said: 'The GSA's restoration team is very excited at the prospect of consulting afresh Mackintosh's original plans and other documents relating to the building. Our aim is to meticulously restore the Mack, and access to the original documentation held at the Hunterian will help increase our understanding and appreciation of Mackintosh's ground-breaking design'
Dr Robyne Calvert, Mackintosh restoration research fellow added: 'The research that has been undertaken by all the consultants in the Restoration Design Team has been meticulous. Although many of Mackintosh's architectural drawings are available online through the fantastic 'Mackintosh Architecture: Context Meaning and Making' project, not all are high enough resolution to make out fine annotations the architect made. Further, there are some drawings of furniture and fittings in the collection that the GSA must consult in order to ensure we are accurately reconstructing items that were lost to the fire.'
More information
---
First published: 19 September 2016