Football Fans in Training hits Holyrood
Neil Bibby MSP hosted a reception at the Scottish Parliament last week to celebrate the sixth anniversary of Football Fans in Training (FFIT), a research-informed weight loss programme for men, delivered at their favourite football clubs. The programme is led by UofG researchers in partnership with the Scottish Professional Football League Trust.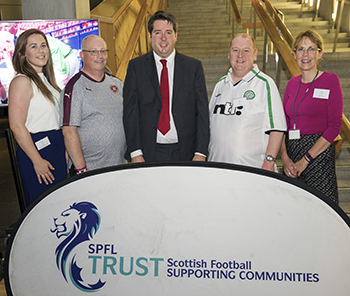 More than a dozen MSPs joined programme partners and clubs, coaches, and participants representing some of the 33 football clubs now involved.
Speaking at the event, Aileen Campbell, Minister for Public Health and Sport, highlighted the power of sport to change lives and improve health and wellbeing. Since 2010, FFIT has been delivered to 4,500 overweight and obese men, helping them to lose weight and make positive changes to their lifestyles.
Programme team members Dr Cindy Gray and Professor Sally Wyke from the Institute of Health and Wellbeing, and Professor Nanette Mutrie from Edinburgh University, are delighted that the programme has achieved such success and recognition.
Dr Gray said: "FFIT is a great example of how partnership working between the University and the third sector (in this case the SPFL Trust) can ensure maximum impact for our research.
"As the coaches and participants at this evening's event have shown, FFIT has really transformed men's lives in Scotland and is continuing to do so at football clubs, large and small across the country.
Reaching further
Following its success in Scotland, FFIT has recently expanding to football clubs in England and Germany. A women's version of the programme is also now available at clubs across Scotland.
FFIT is funded by the National Institute for Health Research Public Health Research Programme.
Find out more
---
First published: 9 September 2016