UofG academics guide Scottish education
Two senior School of Education academics have taken part in the first meeting of the Scottish Government's International Council of Education Advisers.
Professor Chris Chapman, Director of the Robert Owen Centre for Educational Change, and Honorary Professor Graham Donaldson, who was also a member of the Robert Owen Centre until his retirement, are the only Scottish-based members of the council.
Last week they took part in discussions at Bute House, Edinburgh, on August 31 and September 1, which focused on how to bring about success for every young person in Scotland, regardless of their background or circumstances.
Chaired by the First Minister, day one of the Council meeting saw the group discuss the current state of Scottish education, with a review of the OECD findings led by Professor Andy Hargreaves.
Day two's session, chaired by the Deputy First Minister, focused on the way forward, with an in-depth discussion about how to address the attainment gap and the Scottish Government's school governance review.
During the two-day event, the Council carried out visits to primary and secondary schools, meeting pupils, teachers and parents, as well as speaking to education stakeholders such as Cosla (the Convention of Scottish Local Authorities), teachers' unions and the Association of Directors of Education in Scotland.
Attainment gap
After the meeting, the Council confirmed it would take forward work examining:
Capacity-building in educational leadership and professional learning;
Building collaboration and collective responsibility in Scottish education;
What works educationally to close the equity gap.
Education Secretary and Deputy First Minister John Swinney said: "My absolute focus is to bring about success for all of Scotland's young people, while at the same time closing the attainment gap caused by poverty that persists in our schools. We are already taking a range of actions but we want to go further and find innovative, proven methods that can be used in Scotland.
"That is why we have appointed a distinguished panel of international experts, each of whom has a unique perspective on what works to ensure we see improved performance.
"The first meeting of the panel was extremely valuable, with discussions on the current state of Scottish education before analysis of the areas in which the council can help us make the reforms we need to deliver our ambitions"
The Robert Owen Centre, opened in October 2013, focuses on the development of more equitable education systems. It also studies policy and practice and fosters interdisciplinary research. It takes its name from the 19th century entrepreneur, social reformer and founder of the New Lanark model industrial mill town.
The Council will meet again in February.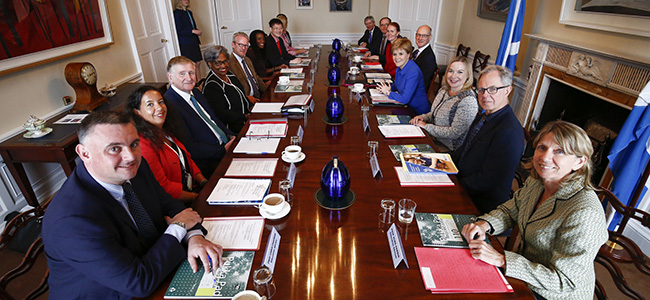 ---
First published: 13 September 2016