Meet Vince Bissell: UofG's first Principal RET Fellow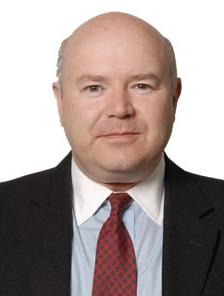 Professor Vince Bissell, Chair in Restorative Dentistry and Dental Education, is the University of Glasgow's first Principal Fellow awarded under the Recognising Excellence in Teaching scheme (RET).
Campus e-News asked what the Fellowship means to him: "Obviously I'm very pleased! I saw this as way to benchmark what I've being doing over the past 10-15 years in terms of learning and teaching in the Dental School."
Professor Bissell was appointed Associate Dean of Dental Education in 2002, and in 2004 launched UofG's revised Bachelor of Dental Surgery programme, which the Complete University Guide 2016 rates best in the UK.
He says: "With the cooperation and contributions of a great many other people, I introduced a new curriculum which has enhanced the reputation of the Dental School both nationally and internationally.
"I gave up the leadership role a couple of years ago but I still play a part in learning and teaching. Applying for the Fellowship was an opportunity to reflect on all that. The process was interesting and illuminating in itself, but then to get the recognition is a good confirmation that what you've been doing is sensible and reasonable. My work has been recognised by my peers and by independent reviewers as being of good quality, and I appreciate that."
Application process
Candidates for a Principal Fellowship must submit an application & three references, which are reviewed by a panel including at least one external reviewer. The panel decides whether to call the candidate for a final assessment interview.
Professor Bissell says: "Putting together the application is not easy. You have to align it with various different requirements, including the Level 4 descriptors in the UK Professional Standards Framework, and demonstrate how you met each one. It took a lot of thought to bring all that together, and to identify things I've done that would provide the evidence, but it was a useful experience: it helped me look back and reflect.
"Jane Mackenzie in the Academic Development Unit was very helpful in looking at my application and providing feedback. There's a good level of support for people applying at the Senior Fellow and Fellow level too. RET is helping people at this university engage with the UKPSF, and it provides a route for affiliation with the Higher Education Academy as well."
Advice for applicants
To anyone thinking of applying for a Fellowship, Professor Bissell advises: "Try and speak to someone who's been through the process. Engage with Jane Mackenzie and her colleagues and don't try to do it on your own! It can be a difficult for people who've no experience of writing in the particular reflective style needed - in some disciplines that's not a natural requirement - so get advice about that. Before you start to write, spend some time thinking about your CV, what you've been doing, and how that aligns with the requirements."
What next?
The Dental School recently introduced a new system of in-course assessment to give formative feedback to students on clinical placements. Professor Bissell says the next step is to develop this system so they can use the data for summative assessment.
"One of the key things professional programmes need to do is ensure that students who graduate are competent, which isn't easy to assess. If you do a one-off assessment of competency, how much does that tell you? This system has the potential to give us lots of information over a period of time, so we can look not just at one-off performance but at consistency of performance. That's got huge potential. We're just one of a number of Dental Schools that have begun to adopt this approach so there's a lot of scope for collaboration there, and for research using this tool.
"I'm very grateful for the support of colleagues over the years, and of the Head of School. There's a strong ethos of quality enhancement in the Dental School, which means most people, most of the time, are thinking about how to make things better. It's a good place to be, a good atmosphere to work in."
Could you be a RET Fellow?
Dr Jane MacKenzie in the Learning & Teaching Centre told Campus e-News: "So far under the RET scheme we've awarded more than 800 fellowships, including 20 Senior Fellowships, and now we're delighted that our first Principal Fellowship goes to Professor Bissell.
"RET is aligned to the UK Professional Standards Framework (UKPSF) and accredited by the Higher Education Academy (HEA). It's a joint award, so Professor Bissell is now both a Principal Glasgow RET Fellow and a Principal Fellow of the HEA, joining Denis Fishbacher-Smith, Moira Fischbacher-Smith, Matthew Williamson and Jo-Anne Murray, who were previously awarded Principal Fellowships directly by the HEA."
More information
---
First published: 5 September 2016