Building formerly known as John
The John McIntyre Building, home to the Students Representative Council, was officially renamed the McIntyre Building on 14 October, writes Tasha Quinn.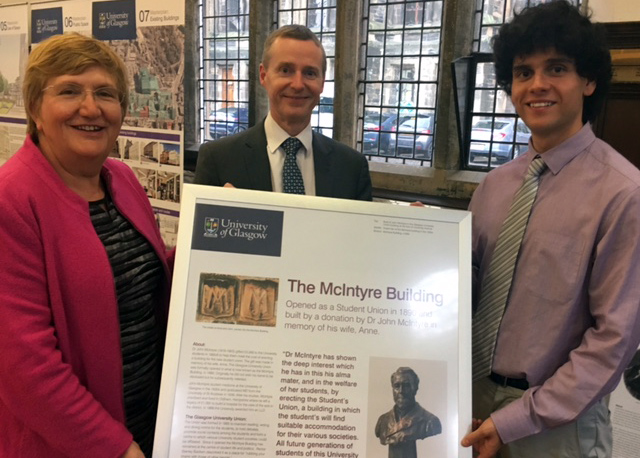 The McIntyre Building was opened as a Student Union in 1890 and built by a donation from University of Glasgow alumni Dr John McIntyre in memory of his late wife, Anne.
Lesley Richmond, Library Deputy Director and University Archivist, gave a talk on the history of the building and SRC President Ameer Ibrahim unveiled a new poster to mark the renaming.
Lesley said: "This renaming is part of a larger piece of work to reflect the historic diversity of the University of Glasgow community in our building names. We are considering names for our new buildings that will be built as part of the campus redevelopment in the coming years and naming currently unnamed buildings on campus. Earlier this year we named the Isabella Elder building and many of the buildings in The Square will soon carry plaques telling the stories of well-known University alumni."
For more information on the renaming, pop into the Welcome Point at the McIntyre Building to see the new poster.
---
First published: 18 October 2016