UofG competes for SensUs 2017
The University of Glasgow is to enter a student team for the 2017 SensUs student competition aimed at finding diagnostic breakthroughs.
SensUs 2017 is the second outing for the SensUs student competition. Between November 2016 and September 2017 teams will be designing, building, and testing biosensor systems, aiming at the detection of a selected cardiovascular biomarker (NT-proBNP) in blood plasma.
In September 2017 all teams will come to Eindhoven University of Technology for the final testing event and public event. Last year, five universities participated in SensUs 2016. In SensUs 2017 there will be five additional international universities competing with each other, including the UofG.
Technology, innovation and entrepreneurship
The University of Glasgow's Professor Jonathan Cooper, Vice Principal for Knowledge Exchange is a member of the Sensus Committee of Recommendation. He said: "I am delighted that the University is setting its sights on SensUs 2017. It underlines our recognition of the importance of students learning to work in cross-disciplinary teams and explore technology, innovation and entrepreneurship."
Dr Julien Reboud, Lord Kelvin Adam Smith Fellow in Synthetic Biology, who is leading the initiative, said: "The competition will involve the University competing against nine other leading European universities. It is fully funded and applicants who want to get involved in this exciting enterprise should be in the later stages of their degree; they should have a strong academic track record and should send me a CV plus 300 words of text indicating why they are suited - including evidence of appropriate team skills and practical experience. I wish all involved the very best of luck."
For more information and to find out how to get involved, contact Dr Julien Reboud, Lord Kelvin Adam Smith Fellow in Synthetic Biology (Biomedical Engineering).
Telephone: 0141 330 7185 email: Julien.Reboud@glasgow.ac.uk
Visit the SensUs website
SensUs Facebook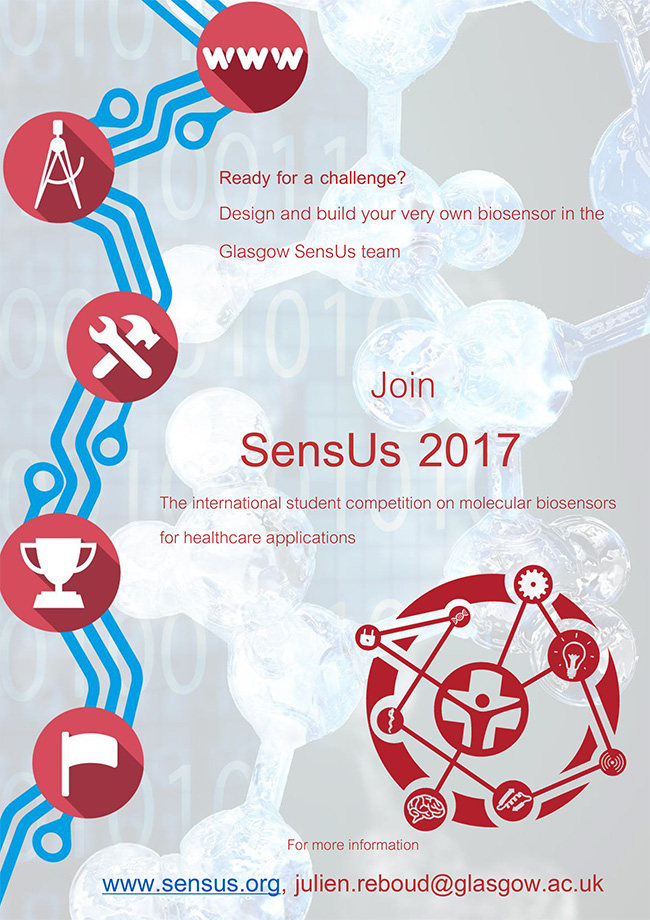 ---
First published: 18 October 2016