Offers 'live' for UofG staff
HR's Performance, Pay and Reward team's new offers for UofG staff are now available.
Working at the University of Glasgow brings many benefits, and our success relies on the talent and contributions of all staff. We're committed to creating a dynamic, diverse and inclusive community that recognise and reward staff. As part of the University's Inspiring Rewards offers, the University is now in a position to provide access to a range of financial services through a number of external partners. HR is pleased to inform staff of an expanded range of services that may be of interest and benefit with two new providers: Scotwest Credit Union and Neyber. Both providers are now available.
In addition, Halfords is to take over as the University's Cycle Plus scheme facilitator, under the Benefits Plus scheme.
The Director of HR, Christine Barr, said: 'As part of our drive to deliver the goals set out in the University's Inspiring People – Changing the World strategy, the Performance, Pay and Reward team have identified a range of offers and discounts for staff on a wide range of products, services and leisure activities. These are in addition to the long-standing benefits provided through the Ferguson Bequest, the Library, SRS and IT Services. There are potentially attractive deals on a multitude of consumable commodities and services including mobile phones, eating out, retail outlet and travel and accommodation discounts.
'I am delighted that we are now able to broaden the range of services for staff to include access to savings plans, loans and mortgages.
'I should stress that the University of Glasgow will gain no direct or indirect financial benefits from these offerings. It is also important to clarify that the University is not able to offer financial advice to staff. We do hope these new services, coupled with pre-existing staff offers and discounts, add value and enhance your experience of working at the University of Glasgow.'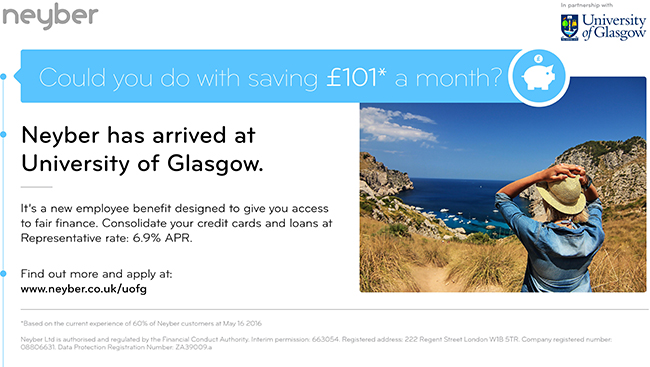 ‌

‌
Halfords
The University of Glasgow is delighted to announce the appointment of Halfords as the new Cycle Plus scheme facilitator under Benefits Plus. Cycle Plus is the University's Cycle to Work scheme, which allows staff members to obtain bicycles and cycling security equipment under a salary sacrifice scheme, therefore saving up to 42% on the original price of a bicycle package.
Halfords, along with their partnership shops, have on offer a wide range of bikes starting from £100 and even have some electric bikes for less than £1,000.
In addition to this, they offer some fantastic discounts to all participants including a 20% cycle part and accessory discount card. This is a great time to consider cycling to work!
For more details on the scheme and benefits visit the Cycle Plus pages.
Any questions can be directed to: travelplanning@glasgow.ac.uk
---
First published: 11 October 2016