Building research links in economic history
Six academics and research students from UofG's School of Social and Political Sciences enjoyed a fruitful trip to China this month. At Nankai University they took part in the first Nankai-Glasgow Economic History Workshop, and in Shanghai spoke at an international conference on Chinese economics.
Future exchanges
Nankai University's long and distinguished history of excellence in economic history research is well matched by UofG's, especially through the Centre for Business History in Scotland.
In a stimulating day of discussion at the Nankai School of Economics, academics from both universities shared their research perspectives and specialities, focusing particularly on business history, banking and financial history. They agreed that, with closely overlapping interests, there is significant potential for academic and research student exchange in the years ahead.

Wealth of Nations
The Shanghai Academy of Social Sciences conference on 'The Dissemination and Practice of Market Economic Thought in China' also commemorated both the 240th anniversary of the publication of Adam Smith's Wealth of Nations, and the 60th anniversary of the founding of the Academy's Institute of Economics.
UofG's Professor Michael French spoke about Adam Smith's time at the University of Glasgow as student, professor and rector.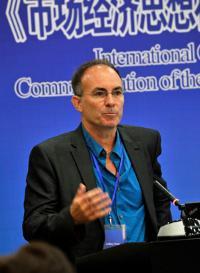 Professor Jeffrey Fear and PhD student Zoi Pittaki highlighted applications of Smith's perspectives in current research in Economic and Social History on business practices and the Greek tax system.
Dr Craig Smith discussed the assumptions about individual behavior - particularly in relation to saving, spending and prudence - in Smith's analysis in the Wealth of Nations.
Other conference papers highlighted applications of Smithian ideas in current research on China's economic development, and several examined the nature and reception of Chinese translations of the Wealth of Nations.
Related links
---
First published: 3 October 2016