Dr Liberty Vittert samples an MP's life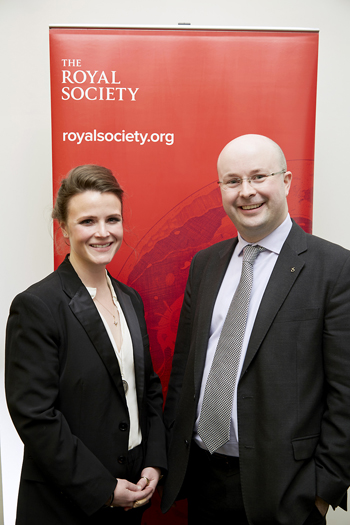 Dr Liberty Vittert, Mitchell lecturer in the School of Mathematics and Statistics, is taking part in the Royal Society's pairing scheme.
The scheme pairs scientists with parliamentarians and civil servants so that they can learn about each other's worlds and explore how research findings can inform policy making. Dr Vittert's counterpart for the scheme is the SNP MP for Glasgow North, Patrick Grady, his party's spokesman for international development.
In Westminster this week the scientists taking part in the scheme will shadow a civil servant or parliamentarian. They will also attend seminars and panel discussions about how evidence is used in policy making and take part in a mock Select Committee.
The visit will provide scientists with a behind the scenes insight into how policy is formed and how they can share their expertise with policy makers. It will offer parliamentarians and civil servants the opportunity to investigate the science behind their decisions and enhance their access to scientific evidence.
Parliamentarians participating this year include three government ministers: Nicola Blackwood MP, Parliamentary Under Secretary of State for Public Health and Innovation; Sir Alan Duncan MP, Minister of State for Europe and the Americas at the Foreign & Commonwealth Office; and Rory Stewart MP, Minister of State for International Development. Six Shadow Ministers are also taking part in the scheme including Rachael Maskell MP, Shadow Secretary of State for the Department for Environment, Food and Rural Affairs and Clive Lewis MP, Shadow Secretary of State for Business, Energy and Industrial Strategy.
Links
---
First published: 29 November 2016