Cabinet Secretary opens QuantIC
Published: 23 November 2016
The £3m innovation space will support the research and development of quantum imaging technologies.
A £3m innovation space which will support the research and development of cutting-edge quantum imaging technologies has been officially opened on campus.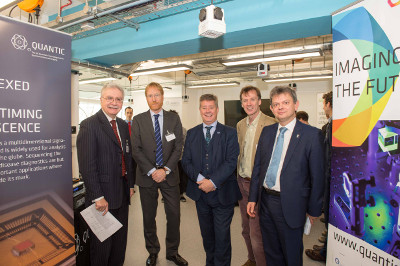 Keith Brown MSP, the Scottish Government's Cabinet Secretary for Economy, Jobs and Fair Work, officially opened QuantIC's Innovation Space during a visit to the University.
QuantIC is one of four UK Quantum Technology Hubs supported by a £270m investment by the Engineering and Physical Science Research Council (EPSRC) in 2014. It brings together academic researchers and industry partners to bring quantum-enhanced imaging systems to market. QuantIC is the only hub based in Scotland.
Projects currently underway with support from QuantIC include the development of a tiny accelerometer which can measure minute changes in gravity, and a range of new cameras capable of seeing around corners, affordably detecting and imaging invisible gases, and creating 3D images.
The Scottish Funding Council contributed £3m to support the creation of the 200-square-metre innovation space in the University's James Watt building. Mr Brown was given a tour of the space, which is purpose-built to make it as simple as possible for QuantIC researchers to work with academic partners, offering custom laboratory and office space on flexible schedules, before unveiling a plaque to commemorate the event.
Collaborate and innovate
Mr Brown said: "I am delighted to launch the Quantum Innovation Space, which will create a place and space for companies to connect at an early stage with researchers to collaborate and innovate on projects related to imaging technology. A thriving economy is only made possible by having a business base which is willing and able to innovate. I wish all the university and business partners involved in QuantIC every success in driving forward research, increasing innovation and growing Scotland's economy."
John Kemp, interim chief executive of the Scottish Funding Council, said: "This innovative addition to Scotland's research base is already making productive connections with the pioneering quantum technology industry. SFC is delighted to support this exciting innovation space and I look forward to seeing more companies benefit from collaborations with QuantIC's researchers."
Professor Miles Padgett of the University of Glasgow, QuantIC's principal investigator, said: "I'm very pleased to be welcoming Keith Brown MSP to QuantIC's new innovation space today and to have the opportunity to demonstrate our support for early-stage start-up activities in the field of quantum imaging.
"Less than two years since it was officially launched with an event at the Glasgow Science Centre, QuantIC has made strong progress both commercially and academically. We have forged relationships with more than 70 companies and published close to 60 research papers, and raised an additional £9.2m to support research and exploitation activities.
"The UK is home to some of the world's best quantum imaging researchers and we're proud that QuantIC is helping to commercialise their work for the benefit of the UK economy."
QuantIC is led by the University of Glasgow in partnership with the Universities of Strathclyde, Edinburgh, Heriot Watt, Bristol, Warwick and Oxford.
Companies currently involved in projects with QuantIC include M squared Lasers, Clydespace, Leonardo, Horiba, Thales, Photon Force, KNT, St Microelectronics, Amethyst, Cascade, Chromacity, Censis, Fraunhofer, Renishaw, Gas Sensing Solutions and Optocap. QuantIC has also partnered with Technology Scotland and CENSIS through joint events and funded projects.
---
First published: 23 November 2016