Kelvin Hall Official Opening
Published: 8 November 2016
Glasgow's iconic Kelvin Hall will be officially reopened at a special VIP ceremony this Friday following its £35 million refurbishment.
Glasgow's iconic Kelvin Hall will be officially reopened at a special VIP ceremony this Friday following its £35 million refurbishment.
Kelvin Hall is a unique collaboration of organisations under the same roof working together offering open access to resources for learning and teaching.
The building houses the University of Glasgow's new study and teaching centre; the Hunterian Museum and Glasgow Museum store collections; Glasgow Life's state-of-the-art gym and sporting facilities; and the National Library of Scotland's Moving Image Archive.
The reinvention of Glasgow's historic exhibition hall as a cultural, academic and sporting complex of international significance is helping to drive forward the city's capacity for learning and innovation, contribute to its cultural, social and economic regeneration and inspire a new generation to lead a healthier and more actively lifestyle.
The project, which has brought 50 per cent of the building back into use, has been funded by Glasgow City Council, the University of Glasgow, National Library of Scotland, Scottish Government, Heritage Lottery Fund and Historic Environment Scotland.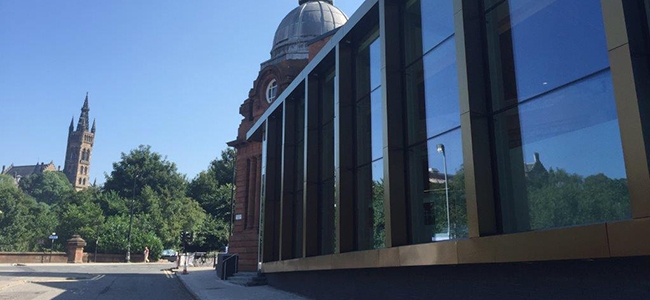 Facilities at the Kelvin Hall include
• new teaching and study spaces for the University of Glasgow, offering several new post graduate courses
• a Collections' Centre offering safe, secure and publicly accessible museum storage to house the internationally significant collections managed by The Hunterian and Glasgow Museums. Around 1.9 million objects, currently stored in various locations around the city, will be relocated to this new facility. They comprise of 1.4 million objects from nine locations housing artefacts from The Hunterian, and 400,000 objects from Glasgow Museums' 1.4 million objects not housed in modern stores
• one of Scotland's biggest health and fitness facilities, Glasgow Club at Kelvin Hall, incorporating a state-of-the-art Glasgow Club health and fitness centre, with an 8 court multi-purpose sports hall, 4 court gymnastics hall, 3 dedicated group fitness studios and one of the largest fitness gyms in Scotland
• National Library of Scotland at Kelvin Hall – visitors can access the Library's extensive digital resources, and an interactive space offers visitors a unique experience to explore films, maps, books and manuscripts in electronic format. Kelvin Hall is the new home for the Library's Moving Image Archive, offering easy access to thousands of films and videos capturing over 100 years of Scotland's history.
Teaching and Research
Kelvin Hall is now open and being used for teaching and research, writes Heather Murphy, Arts College Graduate School.
Ten postgraduate programmes in the following areas of Archaeology; Art History, Museum Studies, Cultural Policy and Ancient Cultures have utilised the facilities and the open access of the collections at Kelvin Hall this year. This includes three new programmes, one of which, Film Curation, is run in collaboration with the National Library for Scotland's Moving Image Archive.
In this first year we have attracted nearly 200 students from 23 different countries (from Kazakhstan to Korea, Indonesia to Ireland) taking the opportunity to learn as part of this unique partnership and in these world-class facilities. 2017 sees another three programmes join the Kelvin Hall offering, with opportunities in Ancestral Studies and Museum Education being available for application.
It is not only postgraduate courses that are being undertaken, we have over 80 students studying on our 11 short courses which are also delivered at Kelvin Hall. With two new Summer Schools being offered from next year, and events being hosted by groups from the Museums Association and Scottish Graduate School for Art and Humanities, Kelvin Hall has the potential to revolutionise how the students, researchers, professionals and the public engage with our collections. It will be responsible for the development, training and knowledge of a new generation of professionals working in the Cultural and Heritage sector.
Key Facts:
195 PGT students
141 PGT student from outside the UK (Int & EU)
13 PGT programmes to be taught from 2017
11 Short Courses
88 people enrolled on short courses.
List of Countries: Bulgaria, Canada ,China, Croatia, Cyprus, France, Germany, Greece, Indonesia, Ireland, Italy, Kazakhstan, Republic of Korea, Netherlands, New Zealand, Oman, Portugal, Republic of Montenegro, Russian Federation, Spain, Taiwan, United Kingdom, United States.
---
First published: 8 November 2016