New UofG Student Dementia Society - 9 Nov
A new, UofG student Dementia Society is running a free Dementia Friends session on Wednesday November 9 from 7-9pm in the Boyd Orr Lecture 1. The event is in partnership with Alzheimer Scotland.
What does the session involve?
The session is just over an hour long and has been created with the help of individuals with dementia. The interactive session isn't about literally making friends with someone who has dementia - all it involves is learning a little bit more about what it's like to live with dementia and how to be more comfortable in communicating with someone who is affected by it.
Why should I go?
Over 90,000 individuals are living with dementia in Scotland. You'll probably know someone with dementia and will encounter numerous people with dementia throughout your life. This might be through a job that involves working with the public or simply being behind someone with dementia in a supermarket queue who is struggling to pay. The session has been designed with the help of individuals with dementia to let you know how they would like you to act around them and communicate with them. Apart from helping you to feel more comfortable around people with dementia, the session will be a great addition to the CV and you will even get a Dementia Friends badge!
If that hasn't swayed you, we will also have sweets!
Will I have to do anything after it?
Nothing whatsoever! It would however be great if you could wear your Dementia Friend badge with pride and let your friends know you attended the session. If you are interested in getting involved with the University of Glasgow Dementia Society afterwards then that would be fantastic, but there's absolutely no pressure!
It would be great if you could let us know if you're coming on Facebook:
Facebook event - www.facebook.com/events/1599933716969186/
(or search Dementia Friends Session)
We look forward to meeting you!
Nat - Dementia Society President
www.facebook.com/UofGDementiaSociety
‌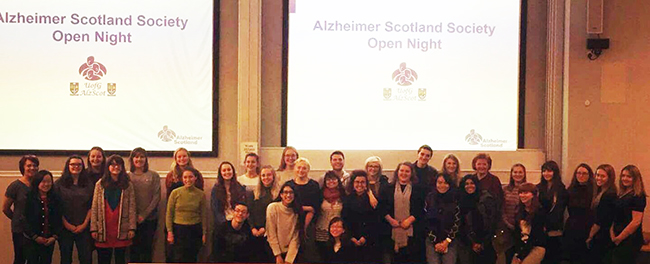 ---
First published: 7 November 2016