'Ask Me' campaign a great success
Published: 8 November 2016
'...it sent out a really friendly message...I liked seeing the pink badges around, and seeing the number of staff who'd got on board to welcome new students...'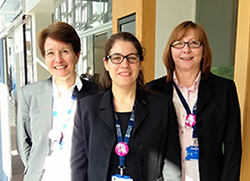 The "Ask Me" campaign was developed by the members of the Positive Student Journey Project team, launched 1 September and ran until 30 September 2016.
More than 200 members of staff including Janitorial, Gardening, Cleaning, Administrative, Management and Academic representatives, as well as the SRC Council and Sabbatical Officers, participated in the initiative, wearing bright pink badges as an indication that students were welcome to ask them any questions as they were out and about on campus.
"I thought it sent out a really friendly message to new students. I liked seeing the pink badges around and seeing the number of staff who had got on board to welcome new students."
Ask Me Ambassador
With very limited resources available, close collaboration with University Services and the SRC was one of the key factors of the successful progress of the campaign.
The initiative was considered as being inclusive, bringing together new student cohorts with a wide spectrum of staff - often those who are not directly involved in teaching.
"I feel that working for a service that is not normally student facing - that I have helped contribute directly to the student experience in the University."
Ask Me Ambassador
Two drop-in sessions were organised on 26 August and 2 September to launch the campaign, welcome volunteers and equip them with the available resources (badges, guides, maps etc.). Members of the Positive Student Journey Project team were on hand to guide newly appointed Ambassadors, give them instructions on participating in the campaign and to assist them with queries. Representatives of the Space Management & Timetabling Team gave demos of the Roomfinder and Timetable App to colleagues and helped them in accessing the app on their mobile devices.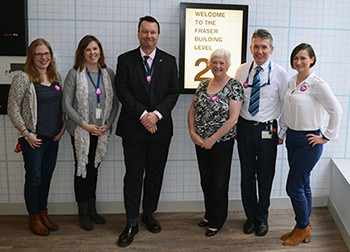 A communications campaign was devised to raise awareness of the campaign amongst new students, including Campus e-News articles, news stories on the Information for current students and Information for new students websites, announcements on MyGlasgow for students, as well as posts on UofGLiving. A variety of social media was used to raise the profile of the campaign, including the University of Glasgow corporate accounts, Library, Sport and others.
An information brochure for staff was developed in collaboration with a variety of University Services and the SRC. The Central Timetabling Team designed maps of the Fraser Building and Main Building, including detailed information on the location of rooms.
Also, an "Ask Me" Yammer group was established to act as a main communications channel between the team and volunteers. Ambassadors were encouraged to record their feedback, concerns and queries during the campaign. A wide variety of comments was posted to the group, as well as questions regarding, e.g. the Roomfinder app, locations of rooms, locations of watercoolers on campus etc. Aside from the team answering key enquiries, the Ambassadors helped each other in a true community spirit.
The campaign closed on 30 September with a questionnaire issued to participating staff. All of the "Ask Me" Ambassadors felt the campaign was beneficial to students, and a vast majority reported that they found benefits of taking part in the campaign. These included feeling part of the new students' experience, greater opportunity to interact with both students and staff, expanding one's knowledge of the campus and available services, sense of job satisfaction directly helping students and welcoming them to campus, building confidence in answering student questions, a strengthened sense of feeling part of the University community, and much more.
Overall, the campaign was a great success, thanks to the invaluable help of colleagues who volunteered to answer student questions.
"The campaign was great, look forward to participating next year and getting more of my colleagues on board too."
Ask Me Ambassador
The pink badges will make their comeback in January 2017, so keep your eyes peeled for more information!
---
First published: 8 November 2016