Fun Family Science at the Glasgow Science Festival
Issued: Thu, 19 May 2016 15:46:00 BST
The University of Glasgow is hosting the 'Science Sunday Big Birthday Bash' as part of Glasgow Science festival on Sunday 19 June.
From 10am-4pm, the Hunter Hall will be populated with a huge array of hands-on activities, led by research staff and students from across the Colleges.
Glow-in-the-dark jellyfish cells
‌Ever seen glow-in-the-dark jellyfish cells or a 4.5 billion year old meteorite? Visitors can explore everything from astronomy to zoology, with interactive exhibits to engage all ages.
Discover the beauty of microscopy, make a 3D image of your face, join the sport science roadshow or experiment with thermal cameras.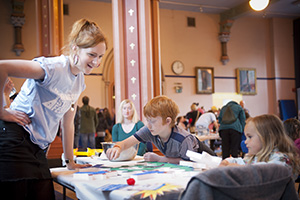 Birthday Balloon Science show
To mark Glasgow Science Festival's 10th anniversary, the day will include plenty of birthday-themed attractions. Don't miss the Birthday Balloon Science show and enter your best science-themed cakes in the Big Birthday Science Bake Off.
Design bunting
Ahead of the event, science fans of all ages are invited to design science-themed bunting which will be used to decorate the hall.
For more information visit: Happy birthday to us!
As in previous years, the day is absolutely FREE to attend. Come along to the biggest science-themed party in town and enjoy this unique, fun-filled showcase of Glasgow research.
More from the Science Festival
Glasgow Science Festival runs from 9-19 June. For more information, visit Glasgow Science Festival
---