Irish Ambassador Lecture
Issued: Tue, 10 May 2016 08:00:00 BST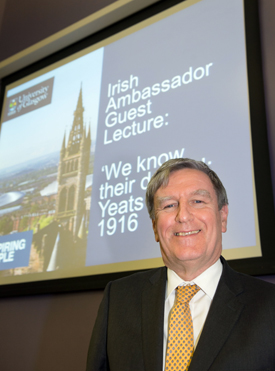 A large and very appreciative audience packed into the Sir Charles Wilson Lecture Theatre on Tuesday 3 May for a sparkling lecture by His Excellency Daniel Mulhall, Ambassador of Ireland to Great Britain.

Following April's centenary of Ireland's Easter Rising, Mr Mulhall's lecture focused on Irish poet William Butler Yeats (1865-1939) under the title of 'We know their dream: Yeats and 1916'. As well as being one of the foremost literary figures of the 20th century, Yeats also served as an Irish Senator for two terms.

The Ambassador was welcomed to the University by the Principal, Professor Anton Muscatelli and Professor Roibeard Ó Maolalaigh, Vice Principal and Head of the College of Arts. The lecture was introduced by the Principal.

Professor Ó Maolalaigh told Campus E News: "Ambassador Mulhall really brought to life the story of Yeats and the Easter Rising, and in particular his great poem Easter 1916, one of the most significant political poems of the 20th century. To mark the centenary of the event with such a powerful, engaging, imaginative and at times humorous talk was tremendous and the large audience most definitely enjoyed this splendid lecture."
---