End of Life Studies research group expands
Issued: Fri, 06 May 2016 11:12:00 BST
The Glasgow End of Life Studies Group has grown with the arrival of Ben Colburn, Senior Lecturer in Philosophy at the University of Glasgow.
Ben's interest in autonomy naturally relates to the study of end of life issues. He hopes to act as a 'philosophy consultant', collaborating on research, blogging and taking part in the group's public activities.
‌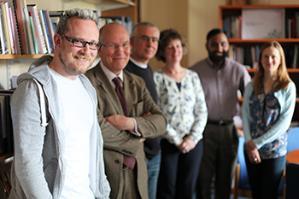 Ben said: "I was pleased to be contacted by the group after writing a blog post for Living Well Dying Well; it's exciting that the University of Glasgow has such broad interdisciplinary strength in this important area."
"I look forward to developing research collaborations with colleagues, and hope to contribute to our wider societal debate about palliative care and the role of death in the life well lived."
The group, founded in 2014 by Professor David Clark and based on our Dumfries Campus, now has members with research interests including sociology, medical history, theology, bioethics, medical anthropology, nursing, public health, palliative care and psychology.
Professor Clark, Wellcome Trust Investigator on the Global Interventions at the End of Life project, is pleased to have a professional philosopher join the group.
David said: "Ben's practical approach to philosophy is going to be invaluable to our research, he's going to give a fresh perspective to our existing work and help us ask the right questions. His experience of outreach philosophy will be very welcome at our death cafes and public events and as an expert on autonomy he will help to strengthen some of the current debate about patient choice and preferences at the end of life."
Get involved
If your research relates to the end of life, in any discipline, you may wish to attend a symposium and networking event which the End of Life Studies Group is planning in December this year.
More details will follow in Campus e-News, or you can get in touch with the group to register your interest: endoflifestudies@glasgow.ac.uk
---