Business School students triumph
Three undergraduate students from the Adam Smith Business School have received global recognition after winning the Gadjah Mada Business Case Competition in Indonesia.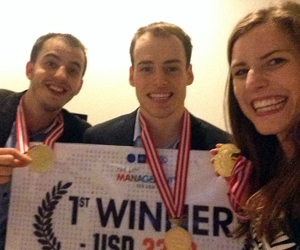 Students Camilla Bohn Ebert, Karol Yearwood and Petr Perina qualified with their award winning team Meticulous Medley.
Now entering its fifth year the Gadjah Mada Business Case Competition (GMBCC) is an annual international business case competition that is organised by the Management's Events with the intention of assisting businesses around the world to find solutions to the problems which they face. Students are encouraged to turn their business skills into a business solution of a real life company case.
The competition is open to all active undergraduate students, under the age of 26, from any university around the world who are studying any discipline. The initial qualifying round requires the students, in team of three from the same university, to submit a case study via email. Meticulous Medley were given a case study on the innovative American automotive and energy storage company Tesla Motors Inc. Their expansion to Singapore has failed and the team's 11-page report outlined what lessons can be learned from that failure and how they can successfully enter the Chinese market, which has huge potential for the company. The Adam Smith Business School students were successful with qualifying and were amongst eight teams worldwide who were invited to compete for the $3500 prize at Universitas Gadjah Mada, Yogyakarta, Indonesia.
Camilla, Karol and Petr arrived in Indonesia on Monday 7 March 2016 to compete with other students from around the world. With only four hours preparation time the students were asked to present, in ten minutes, their findings on a new case study which they had been given. For this round Meticulous Medley had to devise a strategy that would turn around an oil and gas company based in Indonesia. The Adam Smith Business School students showed outstanding business knowledge and were one of five teams who made it through to the finals.
With a fresh case study presented to them the finalists were given just three hours to prepare an analysis of their individual cases. In this final round all internet connection was disabled and the students had to rely solely on their knowledge and understanding of business management. The Adam Smith Business School students identified a new marketing and risk management strategy for a coal mining company and also looked at how they could become more environmentally friendly. Fifteen minutes was allocated for the judges to ask the students any questions regarding their case following the presentation. Again team Meticulous Medley shone above their competitors and answered all questions with enthusiasm, knowhow and proficiency.
Meticulous Medley were announced as the worthy winners at a ceremony hosted on Thursday 10 March 2016.
The Adam Smith Business School would like to congratulate Camilla, Karol and Petra on their outstanding achievement.
---
First published: 22 March 2016