Metaphor Map wins award
The School of Critical Studies' Metaphor Map project has won a Digital Humanities award. It was in the category 'Best Visualisation'.
The project, completed last year, traces metaphor over the entire history of the English language, creating the first ever Metaphor Map resource which contains the thousands of metaphorical connections that the UofG researchers have identified.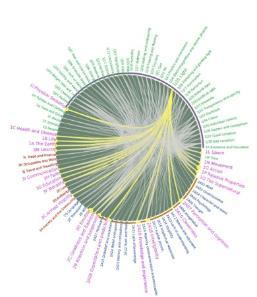 The Metaphor Map is based on the data contained in the Historical Thesaurus of English, which took from 1966-2009 to compile, and its own parent resource, the Oxford English Dictionary. The researchers, who have been funded by the Arts and Humanities Research Council (AHRC), have been able to identify well over 10,000 metaphorical connections between different categories and track how language use has changed over the centuries.
Visit the Digital Humanities (DH) awards results website.
Twitter: @Mapping Metaphor
---
First published: 14 March 2016