Inaugural Annual CDT Conclave 2016
Issued: Tue, 28 Jun 2016 09:17:00 BST
EPSRC Centre for Doctoral Training in Photonic Integration & Advanced Data Storage
by Caryn Hughes, External Engagement Manager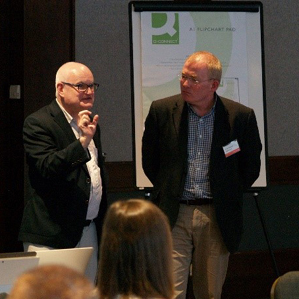 The Centre for Doctoral Training in Photonic Integration and Advanced Data Storage CDT, an exciting partnership between the University of Glasgow and Queen's University Belfast, held its first annual Conclave on 22 and 23 June in Glasgow.
Attracting more than fifty attendees, this successful and vibrant meeting brought current CDT students and academics together with representatives from the Centre's impressive industrial partners such as Seagate, IQE and Kelvin Nanotechnology as well as senior officials from both Universities.
What followed was an interesting programme, organised and led by the students themselves, exploring the Centre's main research themes and the fantastic opportunities to engage with industry. The keynote talk was delivered by Prof Leda Lunardi (North Carolina State University State University) outlining her research interests in traditional electronics, photonics and optoelectronics devices. Anke Lohmann, Head of Emerging Technologies at the Knowledge Transfer Network, was also in attendance, and was able to make key strategic networking links for both Academic and Industrial Partners.
We were delighted that many of our new cohort of students, recruited to begin in September 2016, were also able to attend, giving them an early opportunity to immerse themselves in the CDT and enhance their understanding about the programme.
Our existing students did a wonderful job organising and coordinating this inaugural Conclave, aptly putting into practice many of the presentation and organisational skills they developed during their first year, therein impressing the Centre's industry partners and all who attended.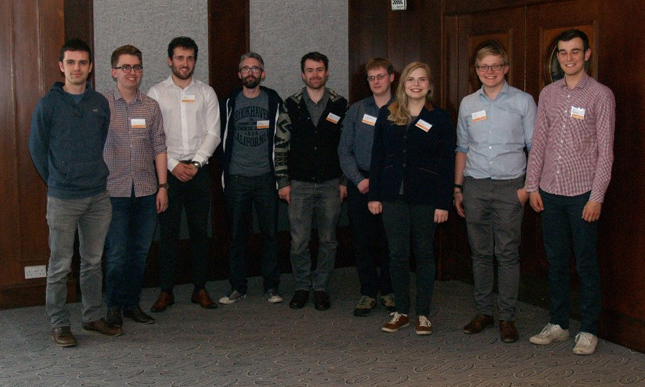 About the CDT
The CDT, directed by Prof Robert Bowman (QUB) and Prof John Marsh (UoG) was established in 2014 with substantial investment from the Engineering and Physical Sciences Research Council (EPSRC) and will help to address a skills shortage in the photonics industry by educating 50+ future scientists and engineers.
The Centre is a truly joint partnership between the University of Glasgow (UoG) and Queen's University Belfast (QUB). Over the next six years we will provide specialised doctoral training in Photonic Integration and Advanced Data Storage to at least fifty-one students.
The CDT focuses on developing highly-manufacturable photonic integration technologies related to the magnetic storage of digital information. The development of these technologies will be relevant to a wide spectrum of end-users – from telecommunications to biophotonics, in which optical technologies are applied to living organisms and health care. For more information, please contact External Engagement Manager caryn.hughes@glasgow.ac.uk or visit the website www.cdt-piads.ac.uk and connect with on Twitter @CDT_PIADS.
---