Learning and Teaching Hub
Issued: Tue, 21 Jun 2016 09:55:00 BST
The application for planning consent for the Learning and Teaching Hub on University Avenue has now been submitted to Glasgow City Council.
The proposed Learning and Teaching Hub, designed by HLM Architects, will provide new, flexible and efficient space that can be adapted to suit the latest pedagogy. The building could house up to 1800 teaching spaces, including three lecture theatres, plus an additional 1200 learning spaces. The proposed development will sit at the heart of the Gilmorehill Campus, connecting the existing historic buildings with the new Western site.

This new facility has been designed to meet the BREEAM certification standard of 'Excellent' and offers the University efficiencies through improved environmental performance including, use of the newly installed District Heating Scheme and new energy-saving cladding for the Boyd Orr building.

Work onsite is due to start early in 2017 and due for completion in September 2019. Details of the planning application should be publicly available on the Glasgow City Council website, sometime over the next few days.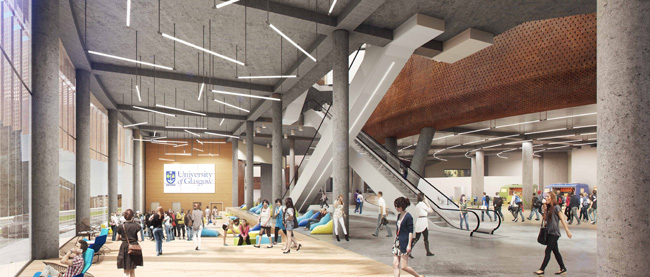 ---