Emeritus Professor Sir Roddy MacSween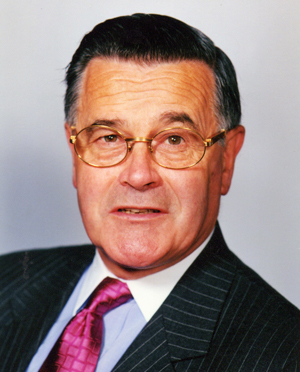 Born on 2 February 1935 in Kinloch, Lewis, a son of the manse, Roderick Norman McIver MacSween was a native Gaelic speaker.
He studied at the University of Glasgow and graduated BSc with Honours in Physiology in 1956 and MB ChB in 1959. He was President of the University Liberal Club. He was Education Secretary of the British Medical Students' Association.
After house jobs in the Professorial Units at Glasgow's Royal and Western Infirmaries, he gained experience in clinical medicine, notably in infectious diseases and virology, and became a member of the Royal College of Physicians of both Glasgow and Edinburgh in 1964. In 1963 he joined Professor D F Cappell's department of Pathology at the Western Infirmary and soon specialised in liver disease.
He became a lecturer in 1965, gained his MRCPath in 1967 and further developed his interest in hepatology and iron metabolism at the University of Colorado Medical Centre in Denver in 1968-1969. Returning to the Western Infirmary as a Welcome Senior Research Fellowship, MacSween gained an MD with Honours in 1973 with a thesis on "Clinico-Pathological and Immunological Studies in Liver Disease". He was rapidly promoted Senior Lecturer, Reader and Titular Professor, and was appointed to the Chair of Pathology at the Western Infirmary and Head of Department in 1984.
Fellow of the Royal Society of Edinburgh
In 1979 Roddy MacSween, Peter Anthony and Peter Schemer published the first edition of Pathology of the Liver an authoritative textbook which rapidly became a standard across the globe.
In 1992 he edited the 13th Edition of Muir's Textbook of Pathology. He was editor of the journal "Histopathology" from 1985 to 1996 and President of its parent body, the British Division of the International Academy of Pathology from 1989 to 1991.
In 1985 he was elected Fellow of the Royal Society of Edinburgh and served on its Council from 1992-1995.
He served as Vice-President of the Royal College of Pathologists from 1995-1996 and as President from 1996-1999. He was Chairman of the Academy of Medical Royal Colleges from 1998-2000.
He retired in 1999 and was knighted in 2000 for services to Medicine and Pathology. He was delighted to receive a DSc from his alma mater in 2007.
Sir Roddy MacSween died on 11 December after a long illness. He is survived by his wife Marjory, née Brown, his two children and five grandchildren.
---
First published: 25 January 2016