New Diversity Calendar
The University now has its own 2016 Diversity Calendar, produced by the Equality and Diversity Unit, and highlighting scores of special days across the year.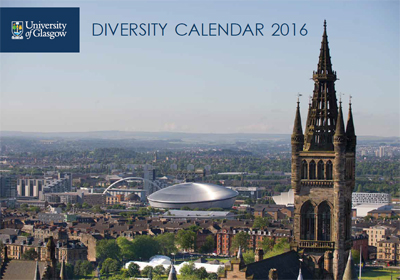 ‌The 2016 Diversity Calendar is in the form of a PDF document which you can find on the HR / Equality and Diversity web pages. It's the first time that the UofG has produced a resource of this nature.
It features, month by month, a wide range of faith and belief days and festivals. It also marks many other special days when the UK - or the wider world - observes national days such as International Women's Day, World Health Day and Mothering Sunday and Father's Day.
The calendar also marks the changes in British Summer Time and GMT, the Student Representative Council's events and elections and of course the University's own session dates and graduations.
Writing in the calendar's introduction, the Principal and Vice-Chancellor, Professor Anton Muscatelli, says: "By promoting respect and understanding between people of all backgrounds, we hope we can inspire people to create a world based on the principles of dignity, fairness, equality and respect."
Also writing in the calendar, SRC President Liam King says: "The University of Glasgow has always been home to people from many backgrounds. These days we have students and staff from across the world, vibrant and inclusive faith groups, and a burgeoning LGBT+ community to give just a few examples. It will be the students educated here today and imbued with the principles of dignity, fairness, equality and respect that will change the world for the next 130 years."
---
First published: 12 January 2016