Take part in The 3rd Degree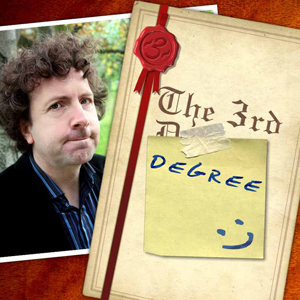 BBC Radio 4 is bringing its quiz show 'The 3rd Degree' to the University of Glasgow on Friday 18 March.
The 3rd Degree is a quiz show, hosted by Steve Punt (from BBC Radio 4's "The Now Show"), that each week travels to a different university and pits three Undergraduates against three academics in a general knowledge/specialist subject quiz.

Each episode is recorded on location at the University with the audience composed of students and academics from that University – and it's coming to the University of Glasgow on Friday 18 March 2016.
Team Volunteers needed
At this stage, the programme's production team, assisted by the UofG's Communications team, is looking for members of the academic teaching staff who would be interested in being on the Staff team. We'll be searching for the student team early in the New Year.
If you're on the teaching staff and would like to volunteer, contact: communications@glasgow.ac.uk and we'll pass on your details to the 3rd Degree.
On the day of the recording, Friday 18 March, you'll be needed from approximately 4pm – 7.30pm. The show will be recorded in the Senate Room.

Now in its sixth series, the show has the underlying rigour of a proper Radio 4 quiz, but combined with a quest to discover how the students will fare against their mentors.

There are two teams of three - three Members of Staff versus three Students. For whatever subject you teach, there will be a matching student of that subject on the student team, to yield three "pairs", and thus three "specialist subjects".
The rounds vary between Specialist Knowledge and General Knowledge, quick fire bell-and-buzzer rounds and individual questions.

The show is produced by David Tyler for Pozzitive, a company that specializes in scripted comedy and entertainment. Their shows include Victoria Wood's "dinnerladies" and a lot of Steve Coogan's work (such as the "Paul & Pauline Calf Video Diaries" and "Coogan's Run"). For Radio 4, Pozzitive produce shows like "Cabin Pressure", "Armando Iannucci's Charm Offensive", "Thanks A Lot, Milton Jones", "The Brig Society" and "Giles Wemmbley Hogg Goes Off" to name but few.
Please do have a look at their website, www.pozzitive.co.uk
---
First published: 12 January 2016